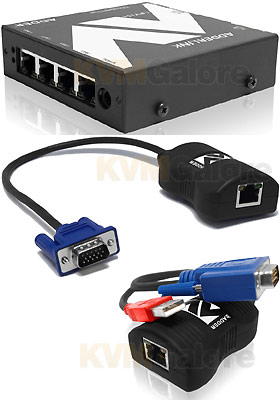 AdderLink LPV
VGA video extender and 4-way VGA video splitter/extender over CAT-5/5e/6/7 cable, supporting DDC and full HD 1080p, 1080i & 720p up to 500 feet
Read more below...

1) AdderLink LPV Model No. ALPV150P In stock
$299.00
MSRP: $335.00 -
You save $36.00

$359.00
MSRP: $400.00 -
You save $41.00
AdderLink Line Powered Video (LPV) Extender and 4-Way Splitter/Extender - VGA Video Splitting and Extension over CAT-5/5e/6/7 Cable, Supporting DDC and Full HD 1080p, 1080i and 720p up to 500 feet.
AdderLink LPV has been designed to deliver stunning results at a really attractive price, making it the perfect introduction to professional digital signage.
AdderLink LPV Digital Signage Splitter/Extender is possibly the easiest to install point to point extender available today. In addition to its simplicity the LPV Extender also delivers fantastic quality video up to 500 feet away.
•
AdderLink LPV
- Point-to-point transmitter/receiver pair.
•
AdderLink LPV 4-Port Transmitter
- 4-way point-to-multipoint transmitter (receivers sold separately).