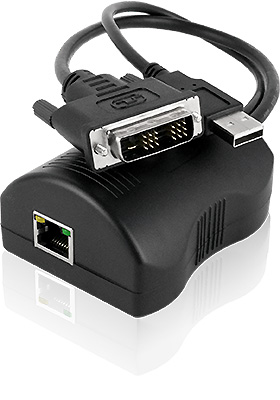 Buy this item and earn 243

Club

Points.
DDX-CAM-DVI: DVI computer access module (CAM) dongle
for AdderView DDX system
---
• Video up to 1920x1200
• USB 2.0 (HID)
• Lossless HD video in real-time
• Microphone input, headphone output and line out
• USB-powered computer module
• Plug and play
A compact "Zero U" DDX-CAM Computer Access Module (CAM) dongle derives all its power from a single USB connection and takes "Zero U" space in your rack.
DDX-CAM and DDX-USR modules provide an easy solution to extending a single computer and its peripherals. However, when you introduce a DDX switch between them, suddenly you have the basis of an expandable switching matrix. Just add further DDX-CAM and DDX-USR modules for each new computer system and user. This superb flexibility safeguards your investment and provides a pain-free progression path.
DDX-CAM is part of AdderView DDX system, featuring Adder's trusted lossless KVM extension technology with flexi-port switching capability, enableing multiple users to access multiple computers located safely and securely inside your server room.
DDX system components
• DDX30 (30-port) or DDX10 (10-port) KVM matrix switch
• User-stations (USRs) for connecting user-consoles
• Computer Access Module (CAM) CATx dongles for connecting computers
If required, computers and consoles can be individually connected in order to take advantage of the DDX extender properties without the switching.
Every pixel uncompressed video technology with ultra-low latency
Unlike many other digital KVM solutions, the DDX delivers every pixel of every video frame to ensure perfect digital video all the time. Resolutions up to 1920x1200 at 60Hz are supported, including 1080p. Uncompressed video technology ensures ultra-low latency and a perfect "at-the-computer" experience.
USB 2.0
Enables connection of any USB human interface device (HID) from mice and keyboards through to touch screens.
Simple CATx cabling
DDX uses widely available CAT-6 cable to connect the user console (up to 164 feet) and computer dongles (up to 32 feet) to the central switch.
Single cable up to 164 feet
Video, USB 2.0 HID only and analog audio all pass along a single CATx cable which can be up to 164 feet in length. The achievable distance is dependent on the monitor resolution and the number of connection breaks for patch panels and wall plates.
EDID management
The extender has an intelligent EDID management to allow the true characteristics of the monitor to be passed back to the computer.