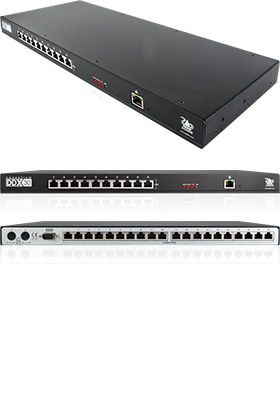 Buy this item and earn 4,702

Club

Points.
Flexible 30-port KVM matrix switch for DVI/DisplayPort/VGA, USB and audio
up to 29 users; up to 23 computers; single- dual- or quad video configurations

---
Highlights
• Multi-user, configurable matrix KVM switch: up to 29 users; up to 23 computers
• Supports single- dual- or quad video configurations
• 7 fixed user ports, 23 configurable ports
• Multi-view thumbnail on-screen display
• Lossless HD video in real-time
• Extension distance of up to 164 feet (50m) from switch to user console
• USB for keyboard and mouse
• Audio support (via CAM's USB connection)
• 'Zero U' DVI, DisplayPort and VGA Computer Access Modules (CAMs) (CATx dongles) available
AdderView DDX30 is a new breed of high performance KVM matrix that provides powerful functionality inside a small, compact form factor. Featuring Adder's trusted lossless KVM extension technology with flexi-port switching capability, DDX30 system enables multiple users to access multiple computers located safely and securely inside your server room.
DDX system components
• DDX30 30-port KVM matrix switch
• User-stations (USRs) for connecting user-consoles
• Computer Access Module (CAM) CATx dongles for connecting computers
This adaptive system makes sharing numerous host computers among multiple users straightforward and flexible. Every computer is linked, via its USB and video ports, to a compact DDX-CAM module while each set of peripherals are connected to a DDX-USR module (to form consoles).
The various computers and consoles are then linked, via standard CAT-7 cable, to a central DDX switch. Each user can then, subject to the privileges granted by the admin, gain quick access to any of the required computers.
An integral part of DDX system is the DDX30 matrix switch, a browser-based configuration and management tool that allows one or more remote admin user(s) to monitor and maintain all aspects of operation.
Access permissions
DDX30 switch uses a system of hierarchal access permissions to mediate between numerous consoles and multiple computers. Each console is granted the use of up to four types of access permissions to each computer, most of which influence how other users can gain simultaneous access to the same computer. Once computer access is permitted, administrators can select which levels of control will be available, allowing users to choose between four connection modes. The four access permissions, and their effects on other console users are: View only, Shared, Exclusive or Private connection modes.
Flexible 30 port KVM matrix
AdderView DDX30 is a flexible 30 port KVM matrix which can be re-configured to match your exact requirements. In addition to 7 fixed user ports, there are 23 flexi-ports that can be configured as computer inputs or user outputs. Once the ports are configured, simply connect your Computer Access Modules (CAMs) and user-stations (USRs).
Port designations
By default DDX30 switch provides 10 user console ports on its front panel and 20 computer ports along its rear panel, however, these designations are not fixed. If your installation requires a greater number of computers or has a need for more user consoles, you can alter the allocation of these standard ports to suit.
High density KVM matrix
DDX30 features 'zero U' computer access modules (dongles) and a high density 1U KVM matrix switch, ideal for installation in heavily populated server racks for small and medium sized applications.
Lossless HD video support
DDX30 delivers lossless HD video at resolutions of up to 1920x1200 @ 60Hz providing a real-time, 'at the PC' experience. Frame rate matching makes this product ideal for applications using non standard refresh rates.
Optimal USB technology
DDX30 emulates a fully featured keyboard and mouse to all computers, maintaining fast switching speeds and instant USB interaction. DDX30 emulates a fully featured keyboard and mouse to all computers, maintaining fast switching speeds and instant USB interaction.
Multi-view on-screen thumbnail display for computer selection
The unique multi-view on-screen display (OSD) provides users with a live preview of permitted computers direct on their screen. Users can highlight their selection using a mouse cursor. Once highlighted, the user has the ability to choose from 4 different connection modes.
Exclusive and private connection modes
DDX30 enables users to work safely and securely with a choice of connection modes. In Exclusive mode, users have full KVM control while being able to share video content with other colleagues. By connecting in Private mode, users can work in privacy.
Multi-head video support
DDX30 transmitters (CAMs) and receivers (USRs) can be grouped to form 'Computers' and 'Consoles' that support dual-head and quad-head connectivity. For example, DDX30 can be used to build a 5 users x 10 computer dual-head matrix. Other multi-screen, multi-user configurations may include:
• 11x dual-video computers with up to 4 consoles
• 7x triple-video computers with up to 3 consoles
• 5x quad-video computers with up to 2 consoles
'Zero U' Computer Access Modules (CAMs)
Powered by USB, the digital Computer Access Modules sit in-line and are ideal for racks with limited available space. Modules are available in DVI, DisplayPort and VGA options.
Secure web control interface
System administrators can securely access DDX30 management tools to configure system settings, set access privileges and control video connections. The interface is secured using HTTPS and administrators must login each time they connect. An API enables switch control from a 3rd party control system.
Package Includes
• AdderView DDX30 switch
• Power adapter with locking connector and country specific power cord
• Four self-adhesive rubber feet
• Safety document
• 19" rack mount brackets and four screws
Dongles not included - see listing of compatible dongles below