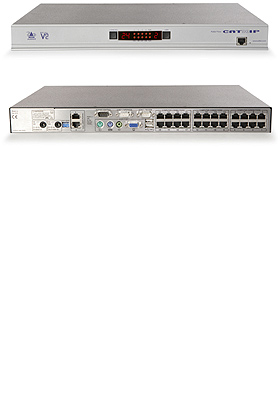 Buy this item and earn 2,425

Club

Points.
AVX4024IP: 4-user, 24-port, CATx-based multi-platform KVM over IP switch
• Control of up to 24 multi-platform servers
• (4) concurrent users; one remote user over IP; one local user; 4 extended users
• High performance USB, video and audio
ADDERView® CATx 4000 switch is a high density, small form factor KVM product providing 4 simultaneous users global (over IP), local and extended access to control of up to 24 multi-platform servers at BIOS level via CATx cabling.
A combination of USB or PS/2 console support with a full KVM feature set ensure high-performance switching of keybord/mouse, video and audio signals ideal for server room and desktop environments. Any type of server can be connected to by selecting a platform-specific Computer Access Modules (CAM).
AdderView CATx 4000 is a secure, KVM via CATx (x = 5, 5e, 6, 7) switch that provides four (4) concurrent users (1 local PS/2 or USB; 4 extended over CAT-x) with BIOS-level control of up to 24 multi-platform (PS/2, USB, Sun) servers.
A "plug-and-play" 1U appliance, AdderView CATx 4000 is a completely self-contained system that installs in minutes, combining high security, flexibility, integrated remote power control, faultless quality video and optional CD quality audio.
Global (IP) user, extended users, and local user
Employing enterprise grade security (using AES 128 bit encryption and RSA 2048 bit public key authentication), AdderView CATxIP 4000 allows server-access and control to a remote user over IP, using either Java Web browser or Real VNC client software that, unlike https Web browsers, is designed specifically for secure, high performance KVM over IP applications. IP and KVM functions are fully integrated – IP and OSD menus use the same server and user databases.
AdderView CATxIP 4000 Global IP user has complete reboot function, interfacing with power switches via a dedicated RS232 port.
For emergency backup access while network access is unavailable, a dedicated modem port allows dial-up access, while still supporting high video resolution of up to 1600x1200 resolutions with scalable windows.
Extended users, and local user
Extended users in the building can be located up to 1000 feet (300m) away from the servers, connected to AdderView CATx 4000 via CATx (x = 5, 5e, 6), using AdderView CATx 4000 User Stations which may optionally support audio and skew compensation.
A local user can connect a console (monitor, keyboard, and mouse) for local access at the rack to all servers, with a choice of either PS/2 or USB keyboard and mouse control.
Faultless video quality and optional CD quality audio
AdderView CATxIP 4000 series provides exceptionally high video performance to local and remote users alike, supporting up to 1900x1200 resolutions with DDC emulation (1600x1200 on IP links).
AdderView CATxIP 4000 switches provide CD quality (44.1 kHz, 16-bit resolution) digital stereo audio to users when optional audio-enabled Computer Access Modules (CAMs) are used. Stereo audio is transferred through the switch digitally so that the sound fidelity is maintained. Audio is supported both at the local console and at the CAT-x extended consoles.
True multi-platform support, power redundancy and easy expansion
AdderView CATxIP 4000 series supports PS/2, USB and Sun servers. Country code reporting, DDC and keyboard and mouse emulation ensure faultless operation. Any PS/2 or USB style keyboard and mouse may be used to control AdderView CAT-X series.
Flash upgradeable CAMs are available for PS/2, USB and Sun keyboard and mouse support with optional audio, supporting a distance of up to 150 feet between servers and AdderView CAT-X switch.
All AdderView CATxIP 4000 series units are equipped to support two (2) external power supply . While shipping with one (1) external IEC power supply, a secondary optional power supply may be fitted to provide power supply redundancy. This, for example, enables the primary power supply to be connected to the main power, while the secondary power supply is connected to a UPS.
AdderView CATxIP 4000 is easily expanded to support more servers, using CAT-x cable cascade connections with simple user intuitive set up.
Features and Benefits
• User access control: Up to 24 different user profiles can be created and access rights for each user can be defined
• Global User (IP): compatibility with Real VNC client software (or alternative browser), designed specifically for secure, high performance KVM over IP applications
• Encryption and authentication: AES128 bit encryption and RSA2048 authentication ensure your control system remains secure at all times
• USB keyboard and mouse control: any USB style keyboard and mouse can be used to control the ADDERView CATx 4000 switch. Full keyboard re-mapping is supported to ensure seamless cross-platform functionality
• Faultless video quality: resolutions up to 1920x1200 @ 60Hz resolutions with Display Data Channel (DDC) emulation
• True multi-platform support: support for any computer platforms with PS/2, USB and Sun keyboard and mouse interfaces. Country code reporting, DDC and continuous keyboard and mouse emulation ensure faultless operation
• Easy cascade: expand simply by using just CATx cable to link units, cascading connections to support up to 256 computers
• Optional audio: 44.1kHz digital stereo audio using audio-enabled CAM modules
• Integration with RS232 controlled power switches to provide a complete hard reboot function
• Flash upgrade
• Computer Access Modules: Flash upgradeable CAMs are available for PS/2, USB and Sun keyboard and mouse support with optional audio
• Standard Transmission Distance: KVM communication from switch to target devices can be up to 165 feet
• Rack-mounting: One CATx 4000 switch can be mounted in 1U of rack height
• Power control functions are supported via dedicated serial port
Package Includes
1x AdderView CATx switch
1x 30W power adapter and country- specific power lead
1x Serial upgrade cable
2x 19" rack-mount brackets and four screws
1x CD-ROM
4x Self-adhesive rubber feet