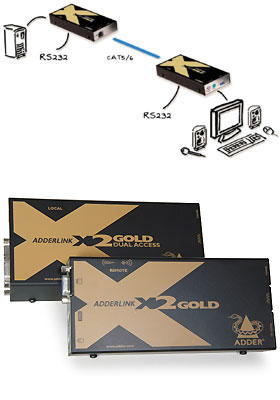 Buy this item and earn 787

Club

Points.
X2-DA-GOLD: PS/2-VGA KVM extension
with local access, serial RS232 and digital audio up to 1000 feet
---
AdderLink X2-Gold Dual-Access Extender uses the latest technology to deliver perfect video pictures at high resolutions over long distances. Using CAT-x cable (5,5e,6,7), AdderLink X2-Gold Dual-Access Extender enables you to extend PS/2-VGA KVM signals at true 1600 x 1200 resolution up to 650 feet (1000 feet supporting 1280 x 1024 resolution).
AdderLink X2-Gold Dual-Access Extender also offers computer access through a local console at the transmitter end, allowing dual access (local and extended) for local setup and maintenance as well as remote access.
AdderLink X2-Gold Dual-Access Extender's exceptional video quality is achieved using high performance video compensation amplifiers with ultra fine independent sharpness and brightness adjustments. Integral De-Skew is also provided to compensate for any color skew effects that may be introduced by long CAT-x cables and thus achieve crystal clear video even at longer distances. For maximum convenience, all video adjustments may be simply made using the keyboard.
AdderLink X2-Gold Dual-Access Extenders are fitted with a range of advanced features that Adder has developed and enhanced over many years of building robust KVM extenders. Flash upgradeable firmware ensures that the latest upgrades and product enhancements can be readily supported via simple downloads.
Great attention has also been paid to the quality of the audio signals to avoid the annoying clicks found on some other KVM extension products. AdderLink X2-Gold Dual-Access Extender supports high fidelity bi-directional stereo audio and audio signals are transmitted digitally using 16 bit, 44.1 kHz sampling to ensure a low noise level.
AdderLink X2-Gold Dual-Access Extender may be desk/shelf mounted or rack mounted in the popular X-Series rack mount system. This system enables 16 units (transmitters or receivers) to be fitted neatly into 2U of rack space to give industry-leading rack densities and provide a modular, flexible and manageable extender solution. The range of complementary X-Series modules enables systems to be constructed to precisely match your requirements.
A number of new innovations are fitted to the AdderLink X2-Gold Dual-Access Extender including improved spike suppression circuits. DDC circuits are also fitted that enable the computer to query the monitor so that the video card can be optimally configured. Without this circuitry, some well known high performance video cards cannot be used at high resolutions. AdderLink X2-Gold Dual-Access Extender also features transparent serial ports that enable a wide range of serial devices to be connected at baud rates up to 57,600.
Features and Benefits
• Extra fine video quality (1600 x 1200 at 650 feet)
• Integrated state of the art 300 MHz de-skew circuit
• Extends keyboard, mouse, video, audio and RS232 up to 1000 feet using single CAT-x cable
• Digital (44.1 kHz, 16 bit) audio transmission delivers high fidelity clickless stereo audio for speakers and microphones
• Advanced spike suppression circuits for reliability in 'noisy' installations
• Flash upgradeable circuitry enables future enhancements and upgrades to be easily downloaded
• Video sharpness, brightness and de-skew adjustments may easily be made using keyboard
• Supports DDC signalling to ensure optimal video card setup
• Transmitters and receivers may be desk mounted or rack in the X-Series rack (16 units per 2U)
• Transparent serial port enables a wide range of serial devices to be connected
Package Contents
• Local (computer-end) unit
• Remote (KVM console-end) unit
• 6-feet long computer interface cable
• Computer serial interface cable
• IEC style power supply and power cord
• Safety and installation leaflet
• CD manual
• Stick on rubber feet
Note: the X-Series rack panels are not included and need to be purchased separately as required).