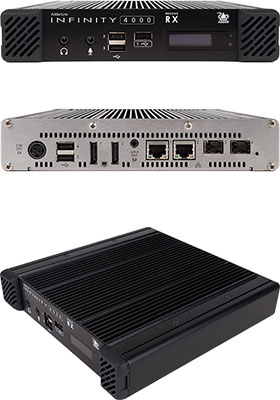 Buy this item and earn 2,469

Club

Points.
ALIF4021R: A dual-head 5K DisplayPort, audio and USB 2.0 IP KVM extension/switching/matrix system
over CATx or fiber using a standard 1~10GbE IP network
---
Note: Transmitter units are purchased separately
• Dual CATx links at speeds up to 1GbE
• Support for dual CATx or fiber at up to 10GbE using optional SFP modules
• Dual-head 5K, video, audio and USB
• Pixel-perfect color accuracy
• Support for 240Hz frame rate at HD resolutions
• Bi-directional analog audio
• DisplayPort audio with 2, 4, 6 or 8 channels on both video heads (supports 5.1 and 7.1 audio)
• Adder's USB True Emulation for fast switching
• Support for advance diagnostic and troubleshooting tools
• Backwards compatibility with existing AdderLink INFINITY range
• Plug and play
ADDERLink INFINITY 4000 series (ALIF4000) is the world's first dual-head, 5K high performance IP KVM matrix over a single fiber. Fully compatible with the existing ADDERLink INFINITY (ALIF) range, and supported by ADDERLink INFINITY Manager (AIM), ALIF4021 can be used as a point-to-point extender or easily integrated into a wider matrix system.
With support for multigigabit Ethernet connectivity, improved dual-head 5K video resolutions and enhanced multi-channel digital DisplayPort audio, ADDERLink INFINITY 4021 is the ideal solution to help you take control of your KVM workflow.
AdderLink INFINITY 4021 (ALIF4021) is a dual-head 5K DisplayPort, audio and USB 2.0 CATx or fiber IP KVM system for A/V and KVM extension and switching over a single link using a standard 1/2.5/5/10GbE IP network.
AdderLink INFINITY 4021 delivers pixel-perfect, color accurate picture quality and USB 2.0 with fast switching. Fully compatible with the existing INFINITY range and supported by the trusted AdderLink INFINITY Manager (A.I.M.), AdderLink INFINITY 4021 can be used as a point-to-point extender or easily integrated into a wider matrix system, enabling KVM users to migrate to 5K without the need to rip and replace.
Configurations
AdderLink INFINITY can be configured to deliver the ultimate in system flexibility:
• Multicasting: The video output from any Transmitter can be multicast to many Receivers. The video data only exists once on the network, and each connected user (Receiver) can view the output simultaneously.
• Full Control: A user has full control of computer 1. The user is viewing the video output, listening to the audio, using a local USB peripheral and has full keyboard and mouse control.
• Mixed Receiver: Here a user is viewing the output video from computer 2 with full keyboard, mouse and local USB device control at the user's desk. At the same time, this user is listening to audio from Computer 1.
• A/V Only: A user position is configured to display video and play audio only. A/V selection may be from different sources.
• Share Mode: In share mode, two or more users have simultaneous access to a shared computer enabling collaboration or advanced control applications.
• Any to Any: In Any to Any mode, connections are fully independent enabling one user to access the first computer while another user accesses another computer etc. This mode supports large scalable matrix switching scenarios.
One-to-one configuration (extension)
The simplest configuration links one Rx unit to a single Tx unit, either by a direct link or over much greater distances via a 10GbE Ethernet network.
One-to-many configuration (also known as True Share or Reverse KVM)
Using multicast techniques, an unlimited number of Receivers can receive video and audio data streams from a single Tx unit. A maximum of twelve concurrent USB inputs (via multiple Rx units) are permitted to a single Tx unit.
Many-to-one and many-to-many configuration (requires AdderLink INFINITY Manager A.I.M.)
Each Rx unit can switch between different Tx units. Multiple instances of many-to-one and one-to-many configurations produce a highly flexible many-to-many installation.

ALIF and A.I.M.
Where multiple ALIF units are used on a network, Adder has developed the ADDERLink INFINITY Manager (AIM) server to allow comprehensive and secure central control of all Transmitters, Receivers and users.
IP Network-Based
Leverage standard 10GbE networking infrastructure to extend or matrix your computing resources to your users! AdderLink INFINITY 4021 units can be used as point-to-point extenders over CATx or fiber cable, or made into a flexible IP-based matrix using standard Ethernet switches and the AIM Manager. AdderLink INFINITY 4021 is the perfect solution for any application including for an office, campus, command center, video wall, editing studio, or as a digital signage solution.
Dual-head 5K screens over a single link
ADDERLink INFINITY 4021 (ALIF4021) can deliver two 5K screens over a single link
10-bit per color and HDR10
Allows greater color depth, supports both SDR10 and HDR10
Perfect digital video
Using the same encoding system as the other products in ADDERLink INFINITY (ALIF) range, the digital video is spatially lossless, with 1:1 pixel mapping, ensuring that the digital video you receive is the same as the one leaving your remote computer
Support for 5K resolution
5K video resolution supported for high resolution and ultra-wide video applications (5120x1440 @ 60Hz or 5120x2880 @ 30Hz)
High frame rate support
Refresh rates up to 240Hz supported for HD video resolutions
Audio capability
Multi-channel digital audio, via DisplayPort™, provides a high-quality immersive sound experience
High speed USB 2.0 with emulation and class control
AdderLink INFINITY 4021 supports transparent USB communication up to 480Mbps of USB devices from mice and keyboards to touch screens, graphics tablets, jog shuttles, joysticks and 3D explorers, alongside mass storage devices. True USB emulation technology also allows for fast keyboard and mouse or touch switching. For applications where security is of high importance, the system can disable the use of non-HID devices, meaning there is no need to physically block USB ports to prevent the use of mass storage devices.
Multigigabit Ethernet support
Multirate (1/2.5/5/10) GbE support enables premium video performance over standard CAT-6 cable up to 328 feet (100 m)
Enterprise-grade security
All AdderLink INFINITY units have built-in security measures compliant with universal enterprise grade security standards inlcuding AES 256 bit encryption and RSA 2048 bit public key authentication
Isochronous communication
Plug and play support for USB devices and third-party tools, such as Blackmagic® Design DaVinci Resolve® Color Grading Panels
Backward compatibility
ALIF4021 can integrate seamlessly into your existing ADDERLink INFINITY setup, replacing or working in conjunction with your existing ALIF endpoints
Unlimited extension distances
10GbE fiber-optic technology offers much greater extension distances over traditional CATx cables. Extension distance is also not limited to a single fiber cable length - If you need to extend further, simply add a 10GbE network device. This can be repeated many times for longer distances.
Redundant network operation
AdderLink INFINITY 4021 units are able to detect whether the network is in operation and can automatically change to its second network 10GbE SFP port if it detects a failure
Onboard diagnostics tool
Diagnostics tool maximizes uptime and assists with technical support enquiries by allowing the customer to troubleshoot network issues directly from the unit
Flexible and scalable
Each ALIF4021 unit can be configured as a simple extender or distributed KVM switch - each receiver can see up to 16 sources or can be connected to ADDERLink INFINITY Manager (AIM) to create a larger and more fully featured matrix
Rack-mounting option
AdderLink INFINITY 4021 units can be used at a desktop or be rack mounted two side-by-side in 1U with the optional RMK12 mounting kit
Features and Benefits
• Dual-head 5K screens over a single link: AdderLink INFINITY 4021 can deliver two 5K60 screens over a single link
• Multigigabit Ethernet support: Multirate (1/2.5/5/10) GbE support enables premium video performance over 5Gb/s copper links using 328 foot of standard CAT-6 cable
• Support for 1GbE: Integrated 1GbE ports enable easy delivery of 4K/60 video over ubiquitous 1Gb/s copper links using 328 foot of standard CAT-5e or CAT-6 cable
• Support for 5K resolutions: 5K video resolutions supported for high resolution and ultra-wide video applications (5120x1440 @ 60Hz or 5120x2880 @ 30Hz)
• IP-based: use your existing standard 1~10GbE networking infrastructure to extend or matrix your computing resources to your users. Supports teaming for network resilience and redundancy
• Perfect digital video: using the same encoding system as the other products in the AdderLink INFINITY range, the digital video is spatially lossless, with 1:1 pixel mapping, ensuring that the digital video you receive is the same as the one leaving your remote computer
• Backwards compatibility: AdderLink INFINITY 4021 can integrate seamlessly into your existing AdderLink INFINITY setup, replacing or working in conjunction with your existing ALIF endpoints
• Digital KVM matrix: by the addition of AdderLink INFINITY Management system (A.I.M.) you can turn multiple point to point extenders into a matrix system that allows any workstation to connect to any computer connected to the network. See the A.I.M. datasheet for details
• Audio capability: analog audio (Line In, Line Out) to support headsets and microphones
• EDID management: the system has intelligent EDID management to either allow the true characteristics of the monitor to be passed back to the computer, or controlled resolutions to be imposed
• Plug and Play: AdderLink INFINITY 4021 devices are shipped in a zero configuration state so you can plug them in and start working on them straight away - There is no need for drivers or software to be installed
Package Contents
1x AdderLink INFINITY 4021 Receiver (Rx) unit
1x Power adapter with locking connector and country-specific power cord
4x Self-adhesive rubber feet
1x Quick start guide
1x Safety document