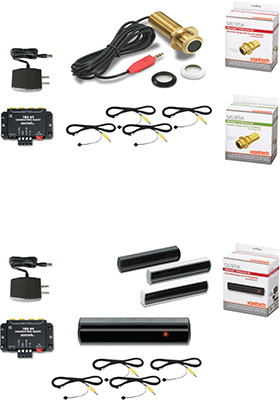 Premium infrared receiver kits
allow AV equipment to be concealed for a clean room design
---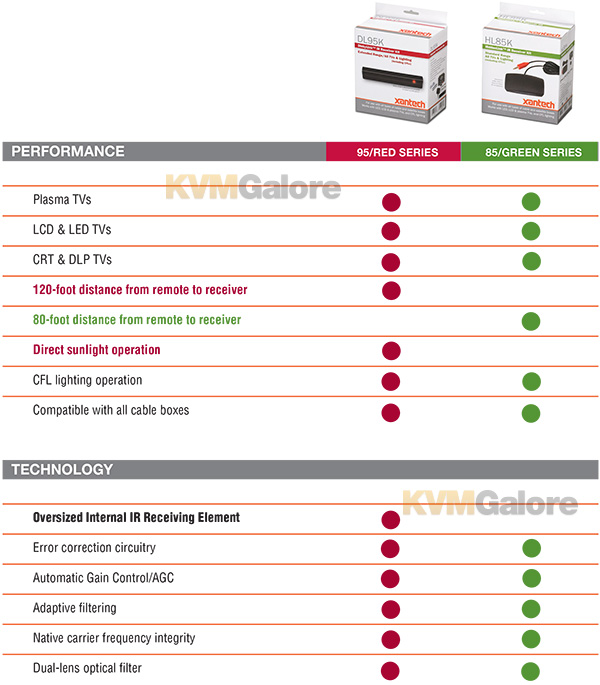 With the rise of LED and LCD TV displays for on-wall use came the problem of opto-electronic interference from these video display designs. Add to that the drive for energy efficiency and the rapid growth of interference-generating compact fluorescent lighting (CFLs) in residences, and IR systems faced a challenging new environment in which to function. Xantech's 95/Red and 85/Green Series handle LED TV displays, LCD and plasma TVs, and are also immune to interference from compact fluorescent (CFL) lighting.
95/Red and 85/Green Series IR are premium receiver kits for high-end and custom installations requiring the ultimate in IR control. Four pre-packaged IR kits have everything you need for a quick and easy installation. Everything is plug-and-play: receiver, connecting block, emitters, and power supply.
With a Xantech IR kits, equipment can now be concealed for clean room design. In addition, a centralized IR receiver means there is only one IR target resulting in improved remote control interaction.
Featuring color-coded connectors, a Xantech IR kit is now easy to install, and allows a worry-free installation. With DL styles no tools are even needed – just plug-in the components, stick on the emitters over the components to be controlled, and you ready to go.
Each kit comes with a four component block and four IR emitters to control up to four A/V components – enough for a typical system comprised of an A/V receiver, set-top box, Blue-ray player and video display. The included 789-44 connecting block connects one IR receiver to 4 IR emitter ports, and has enough power to drive up to 4 dual emitters.
How much performance do you need?
95/Red series best-performance has greatest depth-of-field for superior interference rejection and widest response with over-sized internal IR receiving element. Works in all lighting conditions including sunlight. Works with all set-top boxes.
85/Green series better performance works in all indoor lighting conditions an works with all set-top boxes.
What kind of distance do you need?
95/Red series works with remotes up to 120 feet away. Ideal for large rooms, large family/kitchen areas, conference rooms and classrooms, and anywhere superior performance and extended range are needed.
85/Green series works with remotes up to 80 feet away. Ideal for living rooms, family rooms, master bedrooms, and anywhere the remote control will be in the same general area as the A/V system being controlled.
DL/ Dinky Link™ surface mount
The latest generation of the industry's best-selling design for easy, unobtrusive mounting on any TV set frame or other component. Now the award winning DL-series receivers come with color-change sleeves to match black, white or silver
components - ensuring a hidden installation.
ML/ Micro Link™ bullet or peephole
Intended for in-wall or in-ceiling installations, and in speakers with a suitable IR knockout feature. ML style comes with brass, white and black bezels for easy concealment.