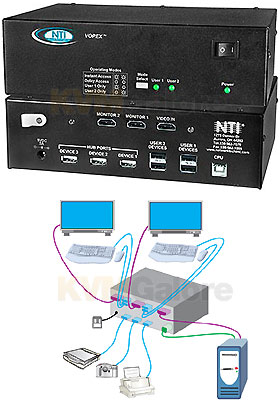 Buy this item and earn 339

Club

Points.
Access One USB/DVI/HDMI Computer from Two Control Locations: Two (2) USB Keyboards, Mice & DVI/HDMI Monitors Can be Connected to One USB Computer, and Share up to Three (3) USB Devices.
VOPEX® DVI/HDMI USB KVM splitter with built-in USB hub allows two users (two USB keyboards, USB mice and DVI/HDMI monitors) to access one USB computer and up to three USB devices (printers, scanners, security cameras, etc.).
Use extenders to extend controlling consoles (keyboard, monitor and mouse) up to 100 feet away.
Features and Benefits
• Compatible with USB PC, Sun and Mac computers.
• Built-in hub for multiple USB devices.
• Access one computer from multiple locations.
• Multiple users can enter data into the same program.
• Supports Plug-n-Play specifications.
• Supports HDTV resolutions to 1080i and computer resolutions to 1920 x 1200.
• Compliant with USB 2.0 (low/full speed) standards.
• Compliant with HDMI 1.2, HDCP 1.1 and DVI 1.0 standards.
• High quality, rugged steel construction with durable, powder-coat finish.
• Supports international keyboard layouts in auto-detection mode.
• Two years warranty