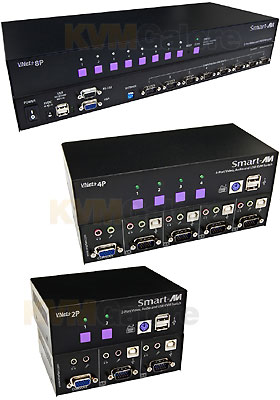 Control 2, 4, 8, or 16 cross-platform (PC/Mac) WUXGA computers with one set of keyboard/mouse and one VGA monitor
optionally sharing stereo audio and microphone
---
Smart-AVI's family of VNet+ switches has been developed with multiple applications in mind, from industrial workstations to digital signage monitoring. This gives system architects and administrators alike flexibility and the power of cross-platform computer integration in a shared environment.

VNet+ 2- 4- 8- or 16-port cross-platform switches make it possible to easily share a VGA monitor, stereo audio (on 2- 4- and 8-port models) and any USB keyboard and mouse (or PS/2 keyboard mouse on 16-port model) seamlessly between up to 16 Macs or PCs.

VNet+ are designed to centralize the management of up to sixteen (16) computers. They are deal for corporate, factory as well as campus applications. It is hotplug capable so that computers may be disconnected and reconnected without powering them off.