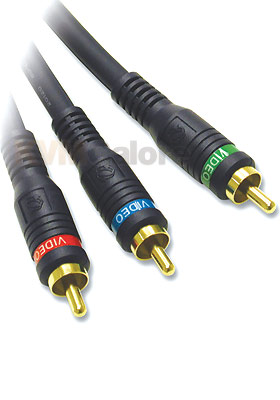 Buy this item and earn 119

Club

Points.
A high quality component video interconnect, a perfect upgrade to the cables that come with consumer electronic components. Ideal for connecting progressive scan video components to monitors and other devices.
Velocity™ component video interconnects by Impact Acoustics will improve the performance of your progressive scan video sources by providing a much better interconnect solution than the "throw away" cables that are included with most consumer electronics products. The oxygen-free copper center conductor and foamed PE dielectric work to maintain 75-ohm characteristic impedance. The dual braided oxygen-free copper shields and aluminum foil sheath offer protection from environmental noise and interference. Robustly constructed using color-coded molded connectors that attach to an ultra-flexible jacket, Velocity cables are the epitome of easy installation and identification. 24K gold plated heavy-duty connectors ensure long-lasting, highly conductive signal connections.
Features:
Connectors: RCA Plug x3 to RCA Plug x3
Oxygen-free copper conductors for efficient signal transmission
100% Aluminum foil and braided OFC shield protect against noise and interference
Bonded cable construction provides for neat and easy component video connections
Molded connectors feature precision-made 24K gold-plated contacts to ensure long-lasting quality
Ultra-flexible jacket for easy installation
UL listed
Inside Package:
Requirements:
Color: Blue
Warranty: Lifetime