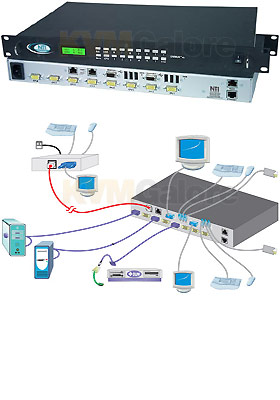 Buy this item and earn 2,049

Club

Points.
High Density, Multi-User, Matrix VGA/USB KVM Switch with Extender Ports for Remote Users over CATx.
The UNIMUX™ High Density VGA USB KVM Matrix Switch allows up to 4 users to individually command or simultaneously share up to 16 USB computers.
Access USB computers (PC, Sun, and Mac) using USB keyboards and mice, and VGA multiscan monitors.
Features and Benefits
• Saves rack space: 2RU in height.
• Extender port for locating a remote user up to 300 feet via CAT-5/5e/6 cable.
• Two local user and two remote user ports.
• Features NTI's patented true autoboot USB switching – all attached computers can be booted simultaneously.
• Compatible with USB computers (PC, Sun, Mac).
• Cascade UNIMUX switches off a single master switch to control up to 256 computers as if from one switch.
• Flash upgradeable.
• High quality steel construction.
• Crisp and clear 1920 x 1200 video resolution.
• Equipped with OSD, Liquid Crystal Display, RS232, and Ethernet.
• Dedicated microprocessors prevent computers from locking up, ensuring reliable control.
• Cabling runs are simplified with NTI's high density KVM switch cables.
• Flash upgradeable