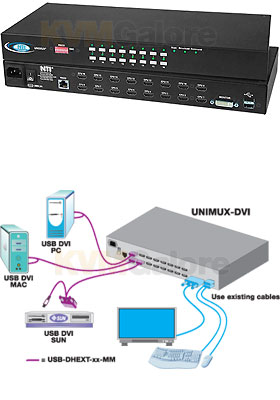 Buy this item and earn 2,495

Club

Points.
UNIMUX-DVI-32HD: Control up to 32 single-link DVI-enabled USB computers
from one USB keyboard, USB mouse and DVI monitor
---
UNIMUX™ High Density DVI KVM switch allows one user to access multiple single link DVI USB computers with only one USB keyboard, USB mouse, and DVI-D Monitor.
Internal microprocessors allow all computers (PC, Sun or Mac) to boot simultaneously and error-free. Port selection is accomplished by a front panel push button or commands typed on the keyboard.
Built-in Control Methods
Front Panel Interface
• LEDs indicate currently selected port and mode of operation.
• Hold in any button for more than five seconds to go into Scan, Broadcast or Command Mode.
o In Normal Operating Mode, the user can directly operate the selected computer with transparent presence of the NTI switch.
o Scan Mode automatically and sequentially displays the video from each powered on computer for 2-255 seconds.
o Broadcast Mode allows the user's keystrokes to be sent to both powered on computers. (Broadcast Mode is not available for MACs.)
o Command Mode allows the user to give instructions to the switch through his/her keyboard. Keystrokes are not passed to the computer.
Keyboard
• Scan, Broadcast or Command Modes are available from the keyboard using hot keys.
• Use the keyboard to command the switch box to select ports or configure the Scan delay.
• Type +<'> (or +<'>) to go into Command Mode.
• Press to leave Command Mode and return to Normal or Scan Mode.
RS232 Control Method
Control
• Female RJ45 connector.
• Female RJ45 connector.
• Baud rate 2400, 9600, 19200, or 38400.
• Use DIP switches to set the baud rate and address up to 16 units, all of which can be daisy chained and controlled by one serial port.
• 5-foot CAT5e patch cable, RJ45F-DB9F and RJ45F-DB25F adapters included.
Commands
• RS - causes switch to reset so that IN1 connects to OUT1, IN2 connects to OUT2.
• CS - causes one INx/OUTx connection to occur.
• CA - causes all inputs to connect to specified output.
• RO - reads what input is connected to specified output.
• RU - reads size of matrix, reports number of inputs and number of outputs on specified switch.
Features and Benefits
• Incorporates NTI's patented true autoboot USB switching; all attached USB PCs, Suns and Macs can be booted simultaneously.
• Supports video resolutions up to 1920x1200.
• Supports digital DVI for crisp and clear video quality on flat panel display.
• Control the switch through the front panel interface, keyboard commands or RS232.
• High quality, rugged steel construction with durable powder coat finish.
• Fully compliant with USB 1.1 standards.
• USB SUN start-up keys are supported.
• Supports MAC soft (keyboard) power-on.
• SUN extra keys are emulated on keyboards with Windows layouts.
• 1RU case is standard. Includes rackmount kit.
• Cabling runs are simplified with NTI's high density KVM switch cables. Cables not included - see listing of compatible cables below.
• Two years warranty