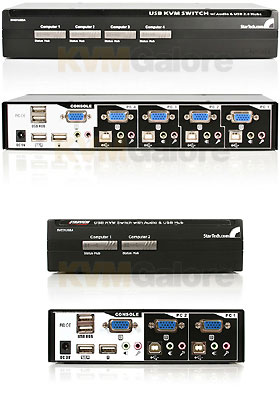 StarView VGA-USB KVMA/KVMP Switches
2- and 4-port steel-chassis VGA-USB KVM switches share speakers & microphone, featuring an integrated 2-port hub for sharing USB 2.0 peripherals
Read more below...

$118.99
Compare to MSRP $139.99 -
You save $21.00

$189.99
Compare to MSRP $199.99 -
You save $10.00
2- and 4-Port Steel-Chassis USB KVM Switches with Audio and USB 2.0 Hub.
These USB KVM switches offer native USB control of USB computers using a single keyboard, mouse and VGA monitor peripheral set.
A versatile addition to any operating environment, the USB KVM switches are suitable for graphics-intensive applications, with support for display resolutions of up to 2048 x 1536 pixels.
A complete multimedia switching solution, the USB KVM switches also support audio switching between connected computers and allow you to "lock on" to the desired audio from one computer even if you're controlling a different computer.
Saving both install space and expense, the USB KVM switches feature an integrated USB 2.0 hub, allowing you to share high-speed USB devices between computers as if the peripheral devices were connected directly to the controlled (slave) computers - a cost-effective solution that eliminates the cost of duplicate peripheral purchases, with no compromise on functionality.