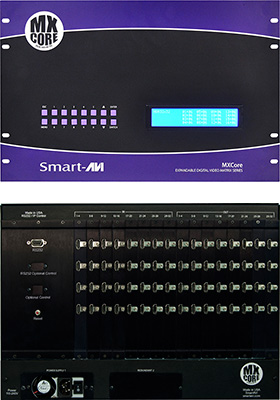 Expandable high-definition HDMI audio/video matrix switchers
rout 1080p video and 7.1 digital surround sound from up to 32 HD sources to multiple HD displays
---
MXCore-HD is an expandable high-definition HDMI audio/video router, capable of routing 1080p signals in configurations of up to 32x32.
MXCore-HD HDMI matrix router allows users to distribute and route inputs from various HD sources onto multiple HD displays. Offering high-resolution support of up to 1080p as well as 7.1 digital surround sound audio without any loss of picture clarity and eliminating ghost imaging.
The HDMI advantage allows the transmission of both audio and video signals simultaneously through a single cable. The HDMI cable is automatically equalized and can compensate the long distance by reducing the number of additional input signals required.
MXCore-HD also supports HDMI 1.4 while conforming to HDCP standards and DVI 1.0 protocols with 12-bit color depth of all HDTV resolutions including 1080p/60 and 1920x1200 for PC resolutions.
HDMI Matrix Switching Made Easy
Users can locally switch between sources via the easy to operate front panel or remotely through a RS-232, IR, or TCP/IP connection. MXCore-HD can be controlled by Smart-AVI's very own Windows®-based manager software, a cornerstone of all Smart-AVI products.
Flexible Control
Smart-Avi offers multiple solutions to control the MXCore-HD Series, including easy protocols to integrate in short period of time and more
advanced protocols with error-detecting code for secure switching.
• Windows application
• Web based application
• Front panel switches and LCD
• Easy protocol for integration with the most common control systems such as: AMX, Creston, and more.
EDID Emulation
Each input incorporates our unique Smart EDID programmable technology capable of learning video resolutions, audio settings and 3D data. The EDID memory of each display is stored in a single flash memory, giving users freedom to choose any EDID and emulation of any display.
MXCore-HD enables HDMI and DVI sources to continuously read the EDID of a monitor with full emulation at any given time.
The EDID management allows learning and saving of up to 100 displays, including audio. With the support of HDMI 1.3 HDCP, MXCore-HD can learn EDID from any display device provided.