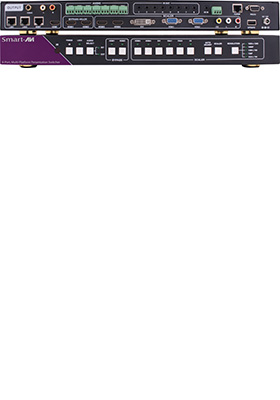 Buy this item and earn 974

Club

Points.
SPS-1000S: 8-port, multi-platform presentation switcher for managing audio and video presentations
from four HDMI, two VGA, one RCA and one DVI inputs, with up to 325 feet of signal extension, local monitoring, remote/Ethernet/RS-232 control and support for 4K Ultra HD content
---
From the boardroom to the classroom, a quality presentation requires an intelligent integration of technology and a user-friendly display of multimedia presentations. Too frequently, end users lack the ability to interface properly from their laptops, drives, and content sources to a meeting room's display.
SPS-1000 from Smart-AVI delivers impressive flexibility because it enables users to integrate a wide variety of A/V technology interfaces all from one easy-to-use device. SPS-1000 features eight input ports total, including four HDMI inputs, two VGA inputs, one DVI input and one RCA (analog stereo audio and video) input. The switcher has seven Phoenix audio connectors, one for each of the digital video inputs, and the audio from these inputs is automatically embedded with the corresponding video signal.
SPS-1000 delivers HD scaling for top-notch video quality and compatibility, allowing users to get the best resolution from a variety of input sources and resolutions. Two of the HDMI inputs can bypass any scaling, which allows the device to support input and output resolutions up to 4K Ultra HD. For the other inputs, supported resolutions and scaling go up to 1920x1080 @60Hz.
With the infrared sensor on the front of SPS-1000, the device can receive IR signals from various remotes and connect them to each connected input device for more convenient source control. The device features one local HDMI output, as well as two local audio outputs (one stereo analog RCA and one SPDIF digital coaxial).
Long Distance Connectivity
Many users will find they need to place the switcher in a more convenient and accessible location than their current A/V configuration allows, particularly considering the distance limitations of HDMI and other video cables. SPS-1000 offers one RJ-45 output for extending HDMI signal output up to 325 feet from the switcher to the endpoint receiver over CAT-5e/6/7 cable via HDBaseT technology. SPS-RX receiver features an HDMI output and an RJ-45 input, as well as IR connections and Phoenix audio ports for increased flexibility.
SRS-RX receiver is compact, making it easy to integrate next to nearly any display set up, and it has RS-232 and LAN outputs for additional control options. With PoE (Power over Ethernet), there's no need to plug the receiver into an outlet for power.
Flexible Control Options
SPS-1000 is designed to provide a variety of control options to fit virtually any application. With RS-232 and LAN connections, users can control the device from a remote laptop. SPS-RX receiver unit (purchased separately) is equipped for both RS-232 and LAN signals, as well. SPS-1000 also features front-panel buttons for easy switching right from the device itself, as well as an IR remote to switch between inputs and manage other basic functions.
Features and Benefits
• Eight video inputs, including four HDMI inputs, two VGA inputs, one DVI input and one RCA input
• One local HDMI output, with one local SPDIF digital coaxial audio output and one local RCA stereo audio output
• Up to 325 feet of signal extension over CAT-5e/6/7 cable with receiver unit using HDBaseT technology and PoE (Power over Ethernet)
• Scales output resolutions up to 1080p
• Two HDMI ports with bypass to support 4K Ultra HD input and output
• Supports control via RS-232, IR remote, front-panel buttons and TCP/IP
• Seven Phoenix audio ports for each of the digital video inputs, with automatic audio embedding
• Supports SPDIF and stereo audio
Package Includes
1x presentation switcher [SPS-1000]
1x power supply [DL12V]