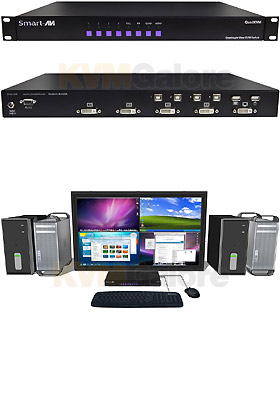 Buy this item and earn 2,249

Club

Points.
SM-QKVM-S: View four (4) different analog/digital video sources simultaneously on one screen
with keyboard and mouse support
---
QuadKVM is a 4-port DVI, USB 1.1 KVM switch with PiP/Dual/Quad/Full modes.
QuadKVM switch allows you to view up to four different analog and digital video sources simultaneously on one display device. It also supports keyboard and mouse functionality, allowing you to access all four displays with one set of interface controls.
Connections to video sources are managed via DVI-I connectors.
Advanced viewing options include dual-mode, quad-mode, full-screen mode, and PIP (picture in picture) mode.
Use this device to simplify management of multiple sources by accessing and controlling them all through a single display and set of controls.
QuadKVM can be used in many applications that require the real-time monitoring of multiple computers. It is a perfect solution in situations where a user needs to monitor several computers at the same time.
QuadKVM is perfect for multi-tasking, allowing the user to run tasks on each computer and monitor their progress in real-time without having to switch back and forth between them.
Modes
• Quad-Mode - In the Quad Mode, the screen is split into four fields of equal size with the entire screen content of a video source or computer being displayed in each of these fields. Keyboard and mouse operation can be selected to the field of the corresponding computer.
• Full-Screen Mode - In the FullScreen Mode, one of the four computers' video sources is displayed in full screen size and maximum resolution. Keyboard and mouse operation automatically switch to the corresponding computer.
• PiP Function - In the PiP Function, the full screen display of one of the four video sources is accompanied by one or three small images (thumbnails) containing the other video sources on the right-hand margin of the screen allowing simultaneous monitoring.
• Operation - Switching between the three display modes and keyboard and mouse operation is done by using either push-buttons on the front panel or by programmable hotkeys on console keyboard.
Features and Benefits
• View up to four computers on a single monitor
• Supports USB keyboard and mouse
• Display each computer with clean and crisp high-resolution video
• Supports resolutions up to 1900 x 1200 @ 60 Hz over DVI-D
• Quad-mode splits the screen to show four computers on one screen
• Dual-mode splits the screen to show two computers on one screen
• PiP-mode displays one computer in full screen with three thumbnail views
• On-screen display makes setup and switching easy
• Switching is controlled via the front panel, keyboard hot-keys or RS-232 commands
• Control any one computer while monitoring three others