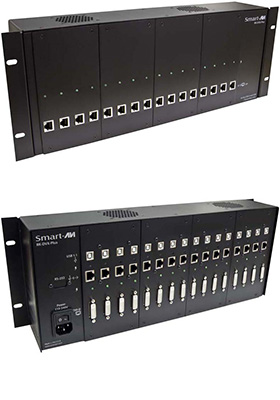 Powered rack/chassis that consolidates up to sixteen (16) DVX-Plus DVI-D/USB extenders into one manageable rack-mountable solution
for extending USB 1.1 and DVI-D up to 275 feet using standard twisted pair cables
---
RK-DVX-Plus extend Universal Serial Bus (USB 1.1) and Digital Visual Interface (DVI) video signals via common twisted pair cable.
Using a unique method of transparent data transfer, the system allows a USB peripheral and DVI video to be located up to 275 feet from the CPU.
Mix and match between consolidated rack-mounted transmitters/receivers with 4, 8 or 16 ports and individual, desk-mount transmitters/receivers.