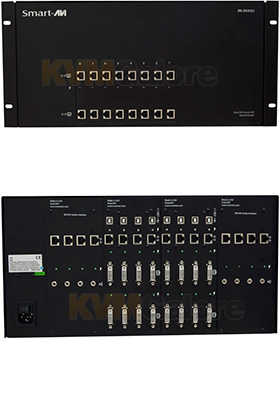 Powered rack-mount chassis with up to eight (8) transmitters or receivers
each for extending two (2) DVI-D screens, stereo audio and USB 1.1 keyboard/mouse and peripherals up to 225 feet Using CAT-6 cables
---
RK-DVX2U-A extends two DVI-D screens, stereo audio and USB 1.1 devices (per transmitter) up to 225 feet using CAT-6 STP cables, while retaining perfectly clear, crisp image (image resolution up to 1900 x 1200 at 60Hz) quality.
Each RK-DVX2U-A system consists of a powered rack-mount chassis populated with transmitter or receiver cards. The transmitters connect to the user's computers with the necessary cables (not included). CAT-6 STP cables (not included) connect each transmitter to a Receiver unit (purchased separately) located up to 225 feet away to which the remote interface devices (USB keyboard/mouse, USB peripherals, a pair of speakers and two DVI screens) are connected.
RK-DVX2U-A is the ideal way to consolidate up to 8 workstation computers into one location. RK-DVX2U-A features dual DVI-D extension up to 225 feet over STP. It is fully compatible with Mac, PC and Linux DVI standards.
RK-DVX2U-A also features transparent USB 1.1 signal extension, with full support for all USB 1.1 devices and an integrated 4-port hub in the receiver. Flash drives, printers, cameras, scanners, etc. may all be used with the RK-DVX2U.