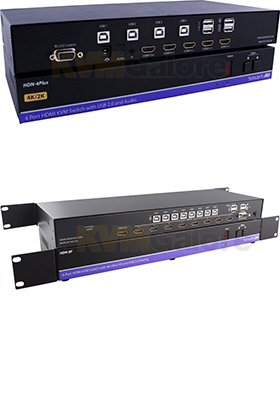 4- and 8-port 4K Ultra-HD HDMI KVM switches with USB 2.0 sharing
HDMI/USB 4K KVMP switches are dedicated multi-platform KVM switches capable of managing four or eight computers through a single HDMI monitor, USB keyboard, USB mouse, and other USB 2.0 peripheral devices. These are the first KVM switches on the market that feature support for 4K Ultra-HD (3840x2160 @ 30Hz or 4Kx2K @ 60Hz YUV4:2:0) workstations.
HDN-4Plus switch also features SmartPreview technology, which enables simultaneous picture-in-picture monitoring of the other sources connected to the switch. This helpful technology allows users to keep tabs on the other connected workstations without constantly needing to switch back and forth.
USB emulation technology utilized by HDMI/USB 4K KVMP switches enable immediate hot key source switching through a remote USB keyboard and mouse. HDMI/USB 4K KVMP switches are HDCP compliant, which support 4K Ultra-HD resolutions and 12-bit deep color at 1080p @ 60Hz. RS-232 control and front panel switching are supported. The switches also transmit digital audio, while UHDN-4P also supports analog audio.
HDN-4Plus - 4-Port 4K Ultra-HD (30Hz) HDMI KVM switch with USB 2.0 sharing
HDN-8P - 8-Port 4K Ultra-HD (30Hz) HDMI KVM switch with USB 2.0 sharing
UHDN-4P - 4-Port 4K Ultra-HD (60Hz) HDMI KVM+audio switch with USB 2.0 sharing