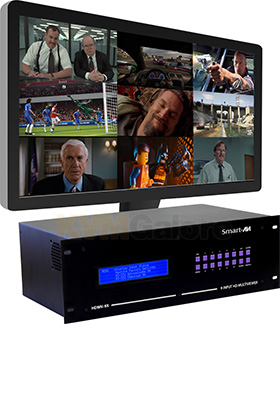 View four, nine or sixteen HDMI video sources simultaneously on one display
accessing and controlling them from a single set of controls
---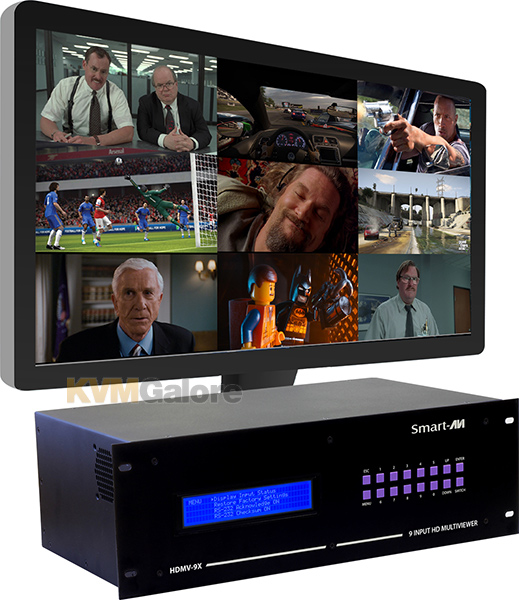 SmartAVI HDMI Multiviewers allow users to view up to sixteen different HD digital video sources on one display, simultaneously.
SmartAVI HDMI Multiviewers are 4- 9- or 16-port HDMI real-time multi-viewers with PiP/Dual/Quad/Full modes.
Connections to video sources are managed via HDMI or DVI connectors, with advanced viewing options such as dual-mode, quad-mode, 4/9/16-mode, full-screen mode, and PIP (picture in picture) mode.
Use SmartAVI HDMI Multiviewers to simplify the management of multiple video sources by accessing and controlling them from a single set of controls on one display.
SmartAVI HDMI Multiviewers can be used in many applications that require real-time monitoring of multiple devices, like HDTV, DVD players, cameras and computers. It is the perfect solution in situations where a user needs to monitor several sources at the same time.
Controlling SmartAVI HDMI Multiviewers is easy using front panel buttons, RS-232 or on screen display (OSD). Switching between the display modes is also simple: Use the buttons on the front panel, RS-232 commands or use the built-in OSD.
If users need to make changes remotely, SmartAVI's Net-IP-Pro control module enables effective real-time remote control management over an Ethernet connection. Simply connect Net-IP-Pro module to SmartAVI HDMI Multiviewer while connected to the Internet, and the device can be controlled remotely with ease.
HDMV Multiviewer - 4 ports
HDMV-16X - 16 ports
HDMV-9X - 9 ports