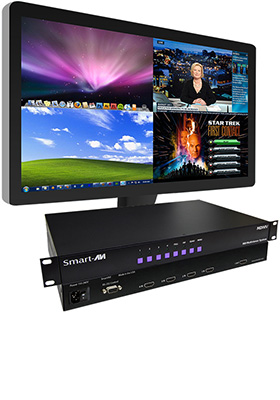 Buy this item and earn 2,474

Club

Points.
SM-HDMV: View four (4) HD video sources simultaneously on one display
accessing and controlling them from a single set of controls
---
HDMV Multiviewer is a member of Smart-AVI's HD Multiviewer series of products that allow users to view up to four different HD digital video sources on one display simultaneously.
HDMV Multiviewer is a 4-port HDMI real-time multi-viewer with PiP/Dual/Quad/Full modes.
Connections to video sources are managed via HDMI or DVI connectors, with advanced viewing options such as dual-mode, quad-mode, full-screen mode, and PIP (picture in picture) mode.
Use HDMV Multiviewer to simplify the management of multiple video sources by accessing and controlling them from a single set of controls on one display.
HDMV Multiviewer can be used in many applications that require real-time monitoring of multiple devices, like HDTV, DVD players, cameras and computers. It is the perfect solution in situations where a user needs to monitor several sources at the same time.
In air traffic control environments, for example, several computers are required to monitor the progress of flights and flight information. With HDMV Multiviewer the user is able to manage each computer and monitor the progress without having to switch between sources, making it the perfect solution for multitasking.
Features and Benefits
• View up to four sources on a single monitor at the press of a button
• On-screen display (OSD) makes setup and switching easy
• Display each computer with clean and crisp high-resolution video
• Supports DVI-D input resolutions up to 1900x1200
• Supports 1080p HDMI output (1920x1080)
• Control any one computer or device while monitoring three others
• Delivers uncompressed digital video with zero signal loss
• HDCP and HDMI 1.4 compliant
• Supports EDID for total control of compliant displays
• Outputs HDMI up to 40 feet
• 1920 x 1080 HDMI or DVI-D
• Change views by pressing the tact switches, keyboard hotkeys and RS-232
• Quad-mode splits the screen to show four sources on one screen
• Dual-mode splits the screen to show two sources on one screen
• PiP-mode displays one device in full screen with three thumbnail views
Package Includes
HDMV Multiviewer [SM-HDMV]
Power supply [CCPWR06]