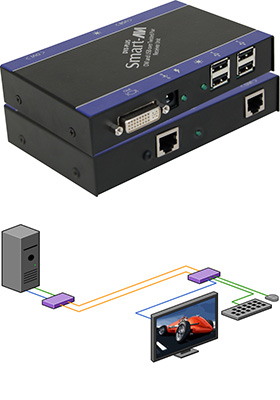 Buy this item and earn 393

Club

Points.
Extend USB 1.1 and DVI-D up to 275 feet
using standard twisted pair cable
---
DVX-Plus extends Universal Serial Bus (USB 1.1) and Digital Visual Interface (DVI) video signals via common twisted pair cable.
Using a unique method of transparent data transfer, the system allows a USB peripheral and DVI video to be located up to 275 feet from the CPU.
Presentations
DVX Plus enhances any presentation from commercial products to corporate financial data. It can be used in show rooms, board rooms, trade shows and window displays.
Data Broadcasting
Data such as news, stock prices, sports results, and flight information can be broadcast in real time to various monitors and/or speakers.
Learning and Training
DVX-PLUS can be used in educational presentations, in schools and in other training facilities.
Additional Applications
DVX Plus can also be used in the following applications;
Security, PC Networking, Conference Center Systems, Point of Sale, Camera Surveillance, Control Room Systems, and many more.
Features and Benefits
• Extends USB and DVI signals up to 275ft from the computer.
• Uses easy to install, inexpensive twisted pair cable.
• Data recovery for digital video.
• Supports 1920x1200 digital video resolution.
• Fully compliant with USB 1.1 specifications.
• Supports 1.5 and 12 Mbps data rates.
• Compatible with all operating systems.
• External power adapter for transmitter and receiver unit.
• Fully transparent (does not use any emulation).
• Plug and play.
Package Includes
• DVX-Plus Transmitter (DVXU-TX)
• DVX-Plus Receiver (DVXU-RX)
• 6 foot DVI (M/M) cable (CCDVIMM06)
• 2x Power supply (PS5VD4A)