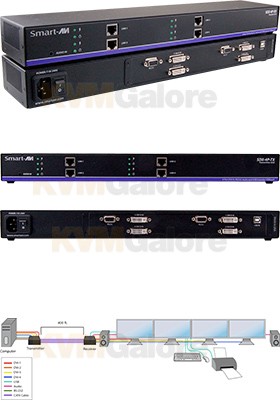 Buy this item and earn 1,874

Club

Points.
Extend quad DVI-D video, USB keyboard and mouse, dual RS232 and audio
up to 400 feet (120m) over four CAT-5/5e/6 cables using HDBaseT technology
---
Using HDBaseT technology, SDX-4P DVI KVM extender is capable of sending uncompressed quad HDCP-compliant DVI-D video signals @ 1920x1200, dual RS232, audio and USB keayboard/mouse signals up to 400 feet over two conventional and inexpensive CAT-5/5e/6 cables.
HDBaseT technology is superior to older DVI extenders that require special CAT-6 sheilded cable to go a short distance.
SDX-4P also has USB keyboard and mouse, RS232 and audio extension, giving you the ability to control your displays or devices remotely.
CAT-5/5e/6 cables are not only inexpensive but also thinner and much more flexible than standard DVI cables. They are ideal for any applications where a video source has to be displayed at one or more remote locations, such as call centers, educational facilities, places of worship, airports, financial institutions, military and government facilities, hospitals, restaurants, retail and trade shows to name a few.
This industrial grade DVI over CAT-5/5e/6 KVM extender comes with CE, FCC, and RoHS certifications.
Easy to use and durable, this device does not require any additional drivers or software for operation. The video source is connected to the input ports on the transmitter. The transmitter and receiver are connected via a single CAT-5/5e/6 cable. The user console (DVI monitor, USB keyboard/mouse) are connected to the output ports on the reciever.
The key features are excellent video quality, simple plug and play functionality, user selectable DDC information, compatibility with major operating systems and devices with DVI-D connectors, and LED indicator.
Features and Benefits
• Extends quad DVI-D up to 400 feet (120m) from the source
• HDCP support
• Supports up to 1920x1200 digital video resolution @ 60Hz
• Supports 4K/2K (3840x2160) video resolution @ 30Hz
• Automatic DDC learning
• USB keyboard and mouse extension
• Uncompressed video HDBaseT
• RS232 extension allows for remote control of displays
• External power adapter for transmitter and receiver unit
• Supports stereo sound
• Compatible with Windows, Mac and Linux operating systems
Package Includes
1x SDX-4P-TX, Transmitter
1x SDX-4P-RX Receiver
2x PS5VDC4A Power Adapters