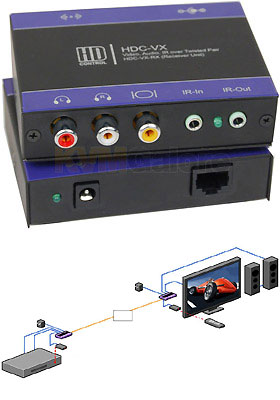 Buy this item and earn 224

Club

Points.
HDC-VXS: Composite video, stereo audio and infrared (IR) point to point CAT-5 extender
One CAT-5 to broadcast Composite video, stereo audio and bi-directional IR up to 1000 feet away! HDC-VX allows the extension of Composite video, stereo audio and infrared control signals via a single Category 5 twisted pair cable using a unique method of transparent data transfer.
Applications
Hotels, cable TV remote control, control rooms, remote on-digital set-top control, sky box control extension, dealer rooms, point of sale, remote VCR control, home use.
Data Broadcasting
Data such as news, stock prices, sports results, and flight information can be broadcast in real time to various monitors and/or speakers.
Learning and Training
HDC-VX can be used in educational presentations to multiple locations, in schools and in other training facilities.
Features and Benefits
• Uses easy to install, inexpensive CAT5/5e/6/7/8.
• Output reaches up to 1000 feet (300m).
• Supports PAL, NTSC and SECAM.
• Video 100 MHz Bandwidth.
• Video cable compensation (automatic).
• Sends Composite Video Stereo Audio, IR and Power signals over CAT-5.
• Compatible with line level stereo audio signals.
• High ground loop immunity.
• Built-in lightning, power surge and transient protection.
• Remote units come with buffered outputs.
• Compact enclosure.
• Optional power supply for remote unit.
• Fully transparent path for all protocols and data transfers.