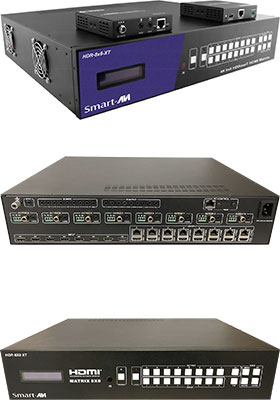 Buy this item and earn 3,749

Club

Points.
4K Ultra-HD 8X8 HDBaseT HDMI matrix switch with PoE
distribute eight 4K HDMI sources to eight local monitors and eight remote displays via HDBaseT (CAT-5e/6/7) with IR & RS-232 support and TCP/IP control
---
HDR-8x8-XT is an 8x8 matrix switch enhanced with HDBaseT technology. Users can send eight 4K/Ultra-HD (3840x2160 @ 30Hz) video sources to eight local displays over HDMI, as well as eight remote displays over CAT-5e/6/7 cables up to 328 feet away when paired with receiver units (HDX-POE and HDX-POE-PRO, each purchased separately).
Doubling as a transmitter extension unit, HDR-8x8-XT sends 4K resolution video further than standard matrix units and effectively cuts costs by utilizing inexpensive CAT-5e/6/7 cabling. It also routes internet to remote smart TVs over HDBaseT and power to connected receivers through PoE (Power-over-Ethernet).
Controlling HDR-8x8-XT is both easy and flexible! The matrix features simple front-panel buttons for direct switching, support for RS-232 commands, and bi-directional IR remote control. HDR-8x8-XT can also be controlled using a TCP/IP web console accessible by PC when connected to the matrix over Ethernet. No matter the application or environment, HDR-8x8-XT is always accessible and in command.
Users can easily control HDR-8x8-XT using:
• Front panel buttons which offer intuitive signal switching capabilities directly from the unit itself
• RS-232 commands from devices that are connected to the unit
• IR remote control for signal switching and receiver control
• TCP/IP Web console, which offers powerful visual tools for users remotely interacting with the unit from a PC
HDR-8x8-XT excels at routing 4K signals in large venues and extended AV setups. Ideal for large venues with multiple 4K-ready screens, HDR-8x8-XT offers unmatched performance and quality over considerable distances. Concert halls, sporting arenas, multiplex cinemas, convention centers, lecture halls, and more are great places to set up an HDR-8x8-XT. Perfect for modest HDTVs and enormous jumbotron screens, HDR-8x8-XT's 4K output ensures the highest picture quality on any display!
Featuring HDBaseT power-over-Ethernet (PoE) support, HDR-8x8-XT powers connected receiver units through CAT-5e/6/7 cables, cutting costs and power consumption. It also features EDID learning and HDCP management for easy set-up!
The 4K advantage
Outfitted with 4K-ready HDMI connectors, HDR-8x8-XT lives up to its label, delivering the pinnacle in image clarity and performance. At 3840x2160, 4K resolution is terrific for displaying elaborate dioramas and scenes of all kinds. From movies to live events, 4K video enthralls an audience and brings what they are watching to life in vivid detail!
Ethernet routing
HDR-8x8-XT connects up to eight smart TVs to the internet via HDBaseT Ethernet switch, saving users valuable setup costs and times otherwise spent on hooking each display up to separate internet routers.
For powerful matrix routing without the hassle of complicated extension, turn to HDR-8x8-XT 4K 8x8 HDBaseT matrix today!
Features and Benefits
• Up to 4K (3840x2160 @ 30Hz) resolution
• (8) HDMI inputs
• (8) HDMI local output
• (8) HDMI HDBaseT outputs (over CAT-5e/6/7)
• Supports power-over-Ethernet (PoE)
• HDBaseT signal extension up to 328 feet
• Ethernet routing: connect output displays to Internet via CAT-5e/6/7 HDBaseT
• HDMI 1.4 & HDCP compliant
• Route RS-232 control to remote monitors
• Supports bi-directional IR remote control
• Supports TCP/IP Web console control
• EDID learning & management
• Supports HDX-POE receivers: Video & IR extension (purchased seperately)
• Supports HDX-POE-PRO receivers: video, IR, RS-232, and Ethernet extension (purchased separately)
Package Includes
(1) HDR-8x8-XT HDMI matrix switch
(1) Power cord (for internal power supply)
(1) Quick start/installation guide