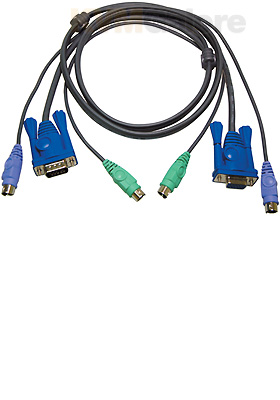 6- 10- and 15-Foot Slim PS/2 & VGA KVM Cables with Micro-Lite Technology, Aluminum Shielding, UL Rated Materials and Over-Sized Thumbscrews for Easy Installation.
ATEN's All-in-One bonded KVM cables are designed to deliver superb video quality and error-free transmission for your high-resolution applications.
These cables feature the latest in design and technologies such as Micro-Lite™ cable technology, an aluminum shield and an all-in-one bonded structure.
They are designed to provide the maximum in quality, performance, and reliability. The thin, flexible cable and the over-sized thumbscrews also make installation quick and easy.