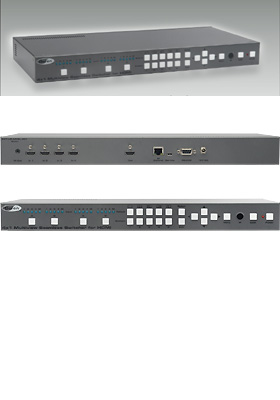 Seamless Multiview HDMI Switchers
View up to 4 Hi-Def HDMI sources on one split-screen HDTV display, w/ each source individually scaled and positioned on the screen as desired
Read more below...

$1,389.00
Compare to MSRP $1,999.00 -
You save $610.00

$1,429.00
Compare to MSRP $2,059.00 -
You save $630.00
Seamless multiview (split-screen) HDMI switcher
accepts four (4) Hi-Def sources, scales and sizes each picture, and outputs them individually or as windows on a single HDTV display
---
Gefen 4x1 Multiview Seamless Switcher for HDMI is the perfect solution for displaying content from four Hi-Def sources on one HDTV display. Each of the windows can be individually scaled and positioned on the screen as desired.
Seamless switching ensures no frame loss during window and picture transitions.
This product is HDCP compliant, and input and output resolutions up to 1080p are supported.
Audio from any of the four HDMI sources can be selected for playback via IR, RS-232, or IP.
Five default factory presets provide most commonly used arrangements of windows on a display, including single window output. Five additional preset buttons allow the user to store and recall custom-configured window arrangements. All ten presets, source selection, Power on, Lock, and menu navigation control buttons are accessible via front panel and the handheld IR remote control, as well as RS-232 and IP (web server interface, Telnet, and UDP).
An intuitive on-screen Graphical User Interface simplifies system configuration.
Gefen Multiview Seamless Switcher is a great solution for small and large commercial venues that require content from multiple entertainment and signage sources simultaneously displayed on a single display. It's an excellent way to improve the visual the impact for digital signage, entertainment, retail establishments, and much more.