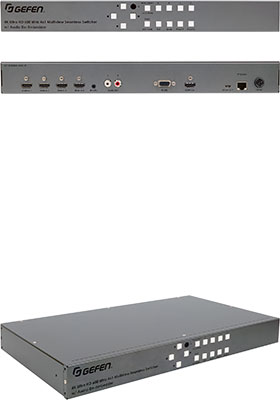 Buy this item and earn 1,389

Club

Points.
EXT-UHD600A-MVSL-41: Seamless multiview (split-screen) HDMI switcher
scales and sizes picture from four Hi-Def sources, and outputs them individually or as windows on a single 4K 600 MHz display
---
Gefen's 4K 600 MHz 4x1 multiview seamless switcher is the perfect solution for displaying content from four Hi-Def sources on one 4K Ultra-HD display. Each of the windows can be displayed one at a time, or individually scaled and positioned on the screen as desired. Seamless switching ensures no frame loss during window and picture transitions.
This product is HDCP compliant. Input resolutions up to 1080p Full HD (60Hz) and output resolutions up to 4K 60Hz 4:4:4 (18 Gbps, 600 MHz TMDS clock) are supported.
Audio from any of the four HDMI sources can be selected via IR, RS-232, or IP, for playback through the HDMI output and the L/R analog audio output. The analog audio is de-embedded from the HDMI output and can be routed to an outboard sound-reinforcement system, adding presence and impact to AV presentations.
Factory presets provide most commonly used arrangements of windows on a display, including single window output. Additional programmable presets allow the user to store and recall custom-configured window arrangements. Presets are accessible via the front panel buttons, on-screen interface, or the web server interface.
The 4K 600 MHz 4x1 multiview seamless switcher is controllable via front panel, a handheld IR remote control, RS-232, and IP (web server interface, Telnet, and UDP). An intuitive on-screen graphical user interface simplifies system configuration.
The Gefen multiview seamless switcher is a great solution for small and large commercial venues that require seamless switching between multiple entertainment and signage sources, or need the content from these sources simultaneously displayed on a single screen.
Its 1U tall enclosure features removable rack ears. It can be mounted in a standard 19-inch wide rack or conveniently be placed on a shelf.
Features and Benefits
• Controllable via front panel controls, IR, IP (web server interface, Telnet, and UDP), and RS-232
• Input resolutions up to 1080p Full HD (60Hz), with HDCP 1.4
• Output resolutions up to 4K 60Hz 4:4:4
• User-selectable playback of HDMI audio content from any of the four inputs
• Analog L/R audio breakout for use with outboard amplification systems
• Easy to use on-screen graphical user interface (GUI) and web server interface
• Handheld IR remote control and IR extender input on back panel
• Seamless switching ensures no switching delay and no picture loss during transitions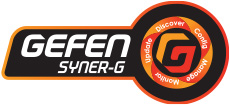 • Field-upgradable firmware using the Gefen Syner-G™ software
• Default pre-configured multiview window arrangements can be accessed via two front panel preset push-buttons
• Custom user-configurable multiview window layouts can be accessed via two front panel preset push-buttons and via OSD
• Locking power supply connector
• 1U tall rack-mountable enclosure, rack ears included
Package Includes
1x 4K 600 MHz multiview seamless switcher
4x 6 foot Locking HDMI Cables
1x 6 foot DB-9 Cable
1x EXT-RMT-EXTIRN IR Extender Module
2x Rack Ears
4x Rack Ear Screws
1x Handheld IR Remote
1x 12V DC Locking Power Supply with US/EU/UK/AU plugs
1x Quick-Start Guide