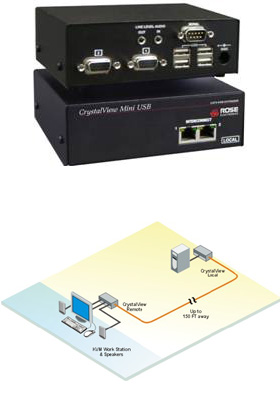 Buy this item and earn 703

Club

Points.
CRK-M2U2V: Extends dual-video, USB keyboard, mouse, and peripherals
up to 150 feet away using CATx cable
---
CrystalView Mini USB is small in size but loaded with state of the art technology. It is ideal for extending the distance between a CPU and a USB KVM station up to 150 feet.
CrystalView system consists of two units, a Local Unit and a Remote unit. The Local unit connects to your CPU using a CPU adapter cable or a KVM switch. The Remote Unit connects directly to the keyboard, video monitor and mouse cables of a KVM station. The Local and Remote Units are connected together with up to 150 feet of industry standard CATx cable.
CrystalView Mini uses a microprocessor to emulate the keyboard and mouse for plug and play operation. The keyboard and mouse on the Remote Unit do not need to be connected for the PC to boot; only the Local Unit must be connected to the PC.
Features and Benefits
• Extend a KVM station up to 150 feet away from a CPU using CATx* cable
• VGA to UXGA video modes
• Supports USB keyboards and mice
• Supports USB 1.1 peripherals
• Integrated 4-port USB hub on remote unit
• Video resolutions up to 1600 x 1200 @75Hz
• Works with any Operating System
• Uses a microprocessor to emulate the keyboard and mouse. The keyboard and mouse on the receiver unit do not have to be connected for the PC to boot; only the transmitter must be connected to the PC
• Fully automatic KVM sharing (Dual access models)
• DDC support
• Rackmount kits available
* CATx cable = CAT-5, CAT-5e, CAT-6, or higher