Buy this item and earn 1,146

Club

Points.
CRK-1DTXT-HD6: HDMI and USB 2.0 CATx extender
330 feet
---
• Extends uncompressed HDMI video and USB 2.0 up to 330 feet over a single CATx cable
• Supports resolutions up to 4K 3840x2160 @ 30Hz; 1920x1200, and 1080p with 36-bit color, Deep Color, and x.v. color
• Supports CEC / HDCP / Lip-Sync pass-through
• Supports audio via HDMI
• Provides 3 high speed USB 2.0 ports with up to 40 Mbps throughput supplying 500ma power
• Transparent USB provides true plug and play extension of USB 2.0 and 1.1 devices, including keyboard, mouse, flash drives, audio peripherals, touchscreens, and more
CrystalView EX HDMI is a high performance 4K KVM extender in a compact, low profile chassis. It is ideally suited for quick and easy installation into industrial and enterprise work environments.
CrystalView EX HDMI is designed for the remote viewing and operation of a high definition monitor and associated USB peripherals. A professional product featuring uncompressed HD digital video, CrystalView EX HDMI is a high performance extender enabling a remote console management workstation to be located at a distance from an HDMI host device. It is compatible with all major operating systems, including Windows, Linux, and Apple OS X.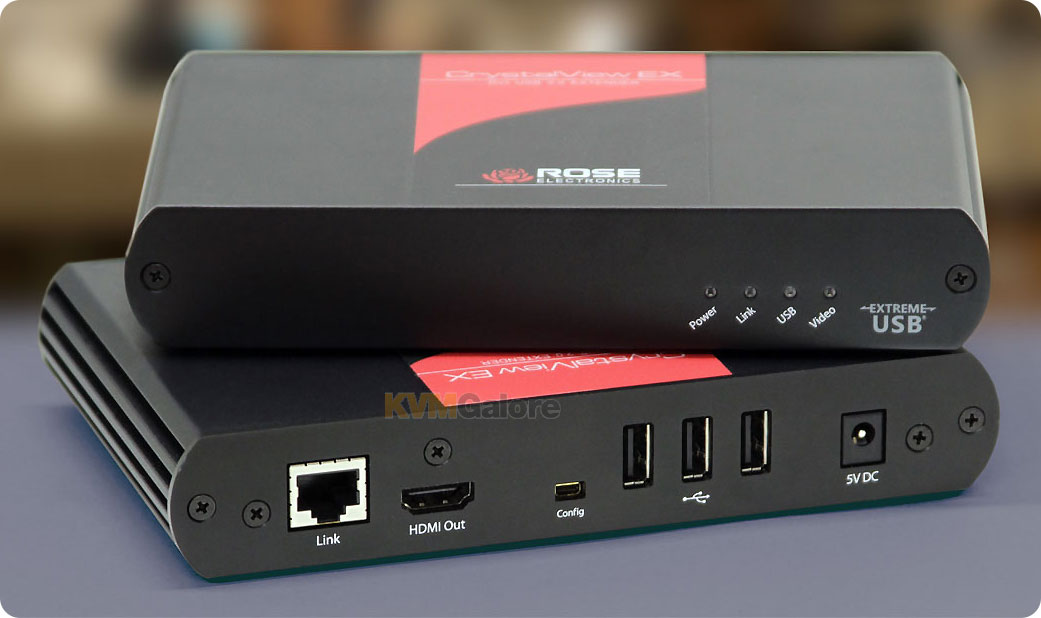 The product transmits uncompressed 4K HDMI video and multiple USB signals up to 330 feet (100m) over a single CATx cable. This enables one to partition their computers or video sources in a secure and controlled environment while the display and USB peripherals are positioned in a location that is convenient and practical.
An HDCP pass-through feature is included allowing digital content from any HDCP compatible device to be transmitted without losing frames or experiencing video corruption. If additional USB devices are required, a USB hub may be connected to expand the number of ports.
The high quality video and digital audio extension used in conjunction with USB 2.0 or lower peripherals makes this device unrivalled for in performance and operation for distances up to 330 feet (100m).
CrystalView EX HDMI extender consists of a local Transmitter unit and a remote Receiver unit connected by up to 330 feet (100 meters) of CATx cable. The Transmitter unit connects to a computer's HDMI video, and USB port. The Receiver unit connects to the console HDMI display and USB 1.1 or 2.0 devices.
CrystalView EX HDMI remote Receiver has three USB Type-A ports for connecting USB devices. USB hubs can also connect to these ports to increase the number of USB devices supported, up to four hubs per Receiver port, or a total of 30 USB devices. The Transmitter unit connects to USB 2.0 or 1.1 computer host ports.
The product supports audio through the normal embedded HDMI audio functionality. It also supports audio over USB 2.0 as an audio device. Audio over USB is supported by the major operating systems.
Typical uses are for digital signage, audio-visual presentations, control rooms, education, medical, military, industrial, and many other applications.
Features and Benefits
• Uncompressed HD video extension provides superior display quality at resolutions up to 4K @ 30Hz with 36-bit color, Deep Color, and x.v. Color
• Supports USB 2.0 at speeds to 40 Mbps and USB 1.1 and 1.0 at speeds from 1.5 to 12 Mbps
• Compatible with three types of computer USB host ports: xHCI (USB 3.0), EHCI (USB 2.0), and OHCI/UHCI (USB 1.1)
• Compatible with Windows, OS-X, and Linux
• Transparent USB provides plug-and-play installation with no configuration required
• Three remote USB ports provide 500mA each
• HDMI embedded audio works normally
• USB 2.0 audio devices are supported
• HDCP and HDMI CEC transparent pass through
• Supports 2D and 3D
• Optional locking DC power supplies available
Package Contents
1x Transmitter unit
1x Receiver unit
2x 5V power adapters for Transmitter (1) and Receiver (1)
1x USB Type-A to Type-B cable (6 feet)
1x HDMI cable (male to male, 5 feet)
1x Product Manual
CATx cables not included
Additional Cables for Optional Use
Input HDMI, male-male
Link CATx
Output HDMI, male-male or HDMI to DVI, male-male