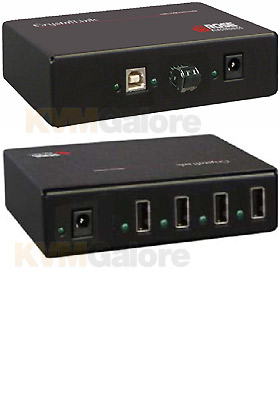 Buy this item and earn 1,319

Club

Points.
CLK-4U2FS-10KM: USB 2.0 4-port extender over single-mode fiber
10 kilometers
---
CrystalLink USB Fiber extender is the extender of choice for extending a USB device over a great distance.
CrystalLink USB Fiber extender makes this possible by the use of fiber optic cable. You can fully operate and control USB devices from as far away as 33,000' using singlemode fiber cable.
Access to USB devices is made convenient in a variety of situations. You can locate users away from hazardous environments where the USB device is located, locate devices away from areas vulnerable to theft, reduce noise and heat; increase desk and floor space.
CrystalLink USB Fiber extenders are usually sold in pairs, a local unit and a remote unit. The local unit connects to your computers USB port and the remote unit connects to four USB 1.1 or 2.0 devices. The Local and remote unit are connected together with fiber optic cable. Each USB port on the remote unit can supply up to 500 ma of power.
In addition to extending to four USB devices, you can add a standard USB hub to the remote unit to access additional USB devices. Connecting a single 4-port hub to one of the remote USB ports will reduce the available power for the 4 additional ports to 125ma per port.
Features and Benefits
• Supports USB 2.0 (high-speed) and USB 1.1 (low/full speed)
• Extend USB devices up to 33,000' (10km) over singlemode fiber
• 4-USB ports on remote unit
• Standard USB hubs can be used to increase the number of connected USB devices
• Up to 500 ma of power is available at each USB port for powering high-power USB devices
• Plug-and-Play installation, no configuration or set-up needed.