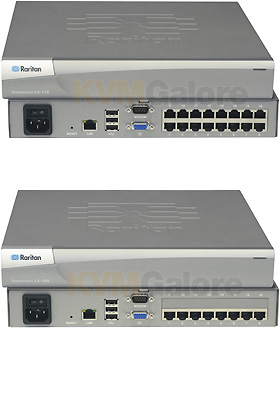 Affordable, high-quality, KVM-over-IP switches for the evolving small or midsize business (SMB)
Raritan's Dominion LX KVM-over-IP switches give one or two remote users, with an independent local port, BIOS-level access and control of 8 or 16 servers.
With flexible tiering (cascading) users can manage up to 256 computers from a single console.
These appliances, specifically designed for small to midsize businesses (SMBs), offer economical, remote access from anywhere; efficient, reliable server management; and an affordable feature set.
Dominion LX in a glance
• Efficient, reliable server management
• Economical, secure remote access from anywhere
• Economical footprint
• Efficient server diagnostics and restore capabilities
• Reduced travel time and training costs
• Cable package options for a minimum initial investment
Dominion LX is available in three models
• DLX-108 (1 local user, 1 remote user; 8 KVM ports)
• DLX-116 (1 local user, 1 remote user; 16 KVM ports)
• DLX-216 (1 local user, 2 remote users; 16 KVM ports)