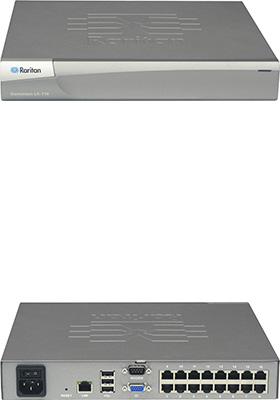 Buy this item and earn 829

Club

Points.
DLX-116: 1 local user, 1 remote user, 16-port KVM-over-IP switch
for small to midsize business (SMB)
---
Dominion® LX is the KVM-over-IP switch that provides IT managers in small to midsize business (SMB) environments with local and remote BIOS-level access and control of up to 16 servers, 24 hours a day, 7 days a week no matter where you are. With tiering, multiple Dominion LX switches can be connected together, and up to 256 servers can be accessed.
Dominion LX modern architecture platform supports High Definition (HD) 1920x1080 remote video resolution for a crisp, clear view into your server infrastructure.
Unlike other KVM-over-IP switches for SMBs, Dominion LX offers economical, remote access and the ability to install OS and software from anywhere using Universal Virtual Media™, efficient reliable server management through a common and modern GUI, and low cost flexible computer interface modules (CIMs) for a minimum initial investment.
With Dominion LX you will be able to access and manage the servers that store your critical business information, wherever and whenever you need to.
Economical, secure remote access from anywhere
• Local and remote user support for one remote user, with an independent local port for non-blocking access.
• Raritan's Universal Virtual Media™ - mount media devices on remote servers enabling IT management from anywhere.
• Advanced Encryption Standard (AES) - 128-bit and 256-bit encryption for added security.
• Asian language remote user interfaces.
Efficient, reliable server management
• Secure, remote BIOS level access and control, for effective server management even if the OS is unresponsive.
• Modern, easy-to-use, common browser-based GUI simplifies local and remote server access and management.
• Absolute Mouse Synchronization™ ensures that the remote and target server mouse pointers stay in sync, making server management easy.
Minimum initial investment
• Multiplatform Computer Interface Modules (CIMs) and MCUTP cable bundles for low cost Dominion LX to server connections.
• Tiering enables multiple Dominion LX switches to be connected together. Manage up to 256 servers from a single console.
Hardware Features and Benefits
• Next-Generation, Modern Hardware Architecture - Dominion LX is a true next-generation switch with an advanced hardware and software architecture specifically for small to midsize businesses (SMBs). This innovative design, found in three hardware models, enables new levels of KVM-over-IP performance, reliability, usability, compatibility and security.
• High Performance, Next-Generation Video Hardware with HD Resolution - Dominion LX's KVM-over-IP engine uses Raritan's next-generation technology, providing users with ultra-fast video screen refresh, 1920 x 1080 high definition remote video resolution, and advanced color calibration.
• Quick and Easy Appliance Setup; "Plug and Play" Mouse Synchronization - Dominion LX is a secure, Linux®-based hardware appliance. All standard Dominion LX features, including authentication and Web access, are built into the unit and do not require the use of an additional server.
• Three USB Ports for Keyboard, Mouse and USB Media - Dominion LX has three USB 2.0 ports on the back panel, for local keyboard, mouse and USB media.
• 1U Form Factor - Dominion LX is only 1U (UST sized) in height, making the Dominion LX an extremely rack-efficient KVM-over-IP solution.
• CAT-5 Cabling - Dominion LX interconnects with each server via standard, economical Cat5 (UTP) cabling. Servers may be located up to 150 feet from the Dominion LX unit. Users can connect up to 16 servers to each Dominion LX via CAT-5 cabling.
• Multiplatform Computer Interface Modules (CIMs) - Dominion LX supports Dominion CIMs, Virtual Media CIMs, MCUTP cable CIMs, and Serial CIMs. Dominion CIMs operate at distances of up to 150 feet from the Dominion LX switch, depending on server resolution.
• Modem Port for Emergency Access - The Dominion LX modem port provides emergency remote access if the data network is unavailable.
KVM-over-IP Connectivity Features and Benefits
• One Remote IP User - Dominion LX provides KVM-over-IP access to one remote user. Session sharing provides for full, unblocked local port access.
• Remote Network Access: KVM over IP - Users can access Dominion LX from anywhere on the network (LAN, WAN, Internet and dial-up), allowing administrators to troubleshoot, reconfigure, reboot and even re-image servers remotely.
• Fully independent Browser Based Local Console Port - Dominion LX features a common, browser-based interface and full management functionality at the local port, providing a consistent user experience that is easy to learn. In addition, convenient hotkey switching between servers is supported.
• Flexible Tiering (Cascading) of up to 256 Servers - Customers can connect (e.g. tier) multiple Dominion LX switches together, and access the attached servers in the data center or from a remote PC. Up to 256 servers can be accessed via a consolidated port list or via search (with wildcards).
• Asian Languages – Japanese and Simplified/Traditional Chinese - Dominion LX's remote HTML user interface and the KVM clients support the Japanese, simplified Chinese and traditional Chinese languages.
• Dual Stack IP Networking: IPv4 and IPv6 - Dominion LX provides dual stack IP networking with simultaneous support of IPv4 and IPv6.
• Virtual Media - The benefits of virtual media – mounting of remote drives/media on the target server to support software installation, remote booting and diagnostics – are available in all Dominion LX models.
KVM Client Access and Control Features and Benefits
• Next-Generation Common User Interface - Dominion LX has a next-generation, browser-based user interface that is common across the local port, remote access, management software as well as other Raritan products - enhancing usability and productivity
• Multi-platform support - Raritan's Windows and Java-based KVM clients provide multiplatform access and control on Windows, Linux, Sun/Solaris and Macintosh desktops.
• Firmware Upgrades over Ethernet - Dominion LX firmware upgrades can be downloaded directly from the Raritan website, and upgrades can be performed via the network. Dominion LX D2CIMs connected to the switch will also be upgraded.
Remote Video Features and Benefits
• Full-Screen Video Display with Flexible Video Scaling - With Dominion LX's full-screen video display, users appear to be directly connected to the target server, without window borders or toolbars. With the "pop-up" menu bar, users can run KVM client functions while in full-screen mode. With the Dominion LX's flexible scaling, the user is not restricted to fixed-size windows, but can drag the window border to the desired size, including small thumbnail views.
• Port Scanning and Thumbnail Views - View selected servers as a slide show and/or real-time thumbnail views. The user can select a list of servers, set the scan interval and quickly access a given server. Works remotely and locally.
• Fast Video Switching - Once Dominion LX's advanced video resolution detection has calculated a target server's video characteristics, connections to the server occur almost instantaneously. This gives the Dominion LX user immediate access in most cases to all connected servers.
Mouse and Keyboard Features and Benefits
• Absolute Mouse Synchronization - The Absolute Mouse Synchronization feature is the ultimate mouse synchronization solution. For Windows and Mac® servers with a compatible USB mouse port, there is no need to adjust the mouse settings on the target server – plug-and-play. This reduces installation time and ensures that the remote and target server mouse pointers never go out of synchronization. This feature is enabled by the D2CIM-VUSB and D2CIM-DVUSB virtual media CIMs.
• Intelligent Mouse Synchronization™ - Most KVM switches require the customer to manually adjust the mouse motion and mouse acceleration settings for all connected target servers for each KVM user. With the Intelligent Mouse Synchronization option, manual configuration is eliminated for many servers. The system can automatically adjust to the server's mouse settings, enhancing the plug-and-play operation of the mouse.
• Transparent Keyboard Handling - Transparent keyboard handling means that virtually all user keystrokes are sent to the target server and not processed by the desktop client. This key feature obviates the need for most keyboard macros and allows the user to directly interact with the target server with a higher level of connectivity.
Security Features and Benefits
• AES Encryption - Dominion LX utilizes the Advanced Encryption Standard (AES) encryption for added security. 128-bit and 256-bit AES encryption is available.
• AES is a U.S. government – approved cryptographic algorithm that is recommended by the National Institute of Standards and Technology (NIST) in the FIPS Standard 197.
• Video and Virtual Media - Dominion LX securely encrypts the video stream, keyboard and mouse data, and virtual media.
• Local and Remote Authentication - Dominion LX integrates with industry-standard directory servers, such as Microsoft® Active Directory, using either the LDAP or RADIUS protocols. This allows the Dominion LX to use pre-existing username/password databases for security.
• Configurable Strong Password Checking - Dominion LX has administrator-configurable, strong password checking to ensure that user-created passwords meet corporate and/or government standards and are resistant to brute force hacking.
• Local Authentication with Users, Groups and Permissions - In addition to external authentication, Dominion LX supports local authentication. Administrators can define users and groups with customizable administration and port access permissions.
• Multiple Security Features - Dominion LX offers many additional security features, including password aging, inactivity timers, group permissions, per-port authorization, etc.
Warranty
Two Years with Advanced Replacement. Guardian Extended Warranty Available.
Package Includes
1x Dominion LX switch
1x Rack-mount kit
1x AC power cord
1x LX quick setup guide
1x Application note
1x Warranty card