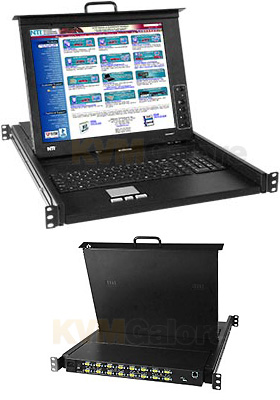 Buy this item and earn 1,759

Club

Points.
Rackmount KVM Drawer with High Density USB-VGA KVM Switch and Extra USB Port (CAC Card Reader Compatible) to Control up to 4 USB Computers from 1RU of Rack Space.

RACKMUX® USB KVM Drawer with Built-in High Density USB KVM Switch combines a rackmount LCD monitor, keyboard, touchpad mouse and a 4-port high density USB KVM switch in a space-saving 1RU industrial strength drawer.

Features and Benefits
• Forward-folding 17" TFT/LCD VGA monitor.
• 1280x1024 video resolution for 17" monitor.
• Tilt LCD up and back to adjust to any comfortable viewing angle to 120° for 17" models.
• Control up to 4 USB computers (PC, Sun, and Mac) with VGA video.
• USB port to connect an external USB device, such as a CAC card reader or flash drive.
• Torque-friction hinges – monitor does not wobble, spring, or slam shut.
• Designed to be a one-person job when installing the drawer.
• Compact, heavy-duty tactile keyboard with 17-key numeric keypad.
• LCD auto-shutoff in closed position.
• Drawer locks into place when open to prevent it from sliding out of the rack.
• Front quick-release latches for pushing the drawer back into the rack.
• Dedicated microprocessors prevent CPUs from locking up, ensuring reliable control.
• Keyboard available in multiple languages: English(US), English(UK), German, Italian, French, and Spanish.
• Cabling runs are simplified with NTI's high density KVM switch cables.
• Available with Sunlight Readable monitor.
• 2-year warranty.