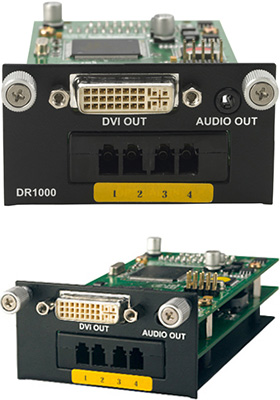 Buy this item and earn 600

Club

Points.

DVI + analog audio over 4 LC fiber-optic receiver module
for RF6 Extension Center, 5,000 feet - Full HD
---
Looking for a better price? Write to us or call us at 1-800-636-3434 and ask for our special offer
---
Note: Transmitter units are purchased separately
DR1000 is a slot-loading (into a RF6 chassis) module board receiver. It provides a very easy and reliable solution for extending uncompressed HD video and audio signals up to 5,000 feet (1,530 m) via 4 strand fiber optic cables.
RF6 Extension Center is a revolutionary 19", 1-RU size rack mount assembly for DVI/HDMI fiber-optic/CAT-5 extension modules. Various transmitter and receiver modules are designed for slot-loading into the RF6 main frame.
Able to mix fiber optic and CAT-5 extensions, RF6 Extension Center features power supply for up to six modules per chassis, eliminating a lot of small adapter type power supplies, housed in a 1RU rack housing.
Compact and durable design along with lower power consumption makes it an ideal solution for connection of high definition video/audio signal of digital displays such as LCD/Plasma/LED displays and projectors.
This pure fiber optic/CAT-5 connection enables electrical noise free and EMI free that is ideal for long distance/mid-range extension of high definition DVI/HDMI signals with audio.
Intuitive LCD panel on RF6 Extension Center shows the status of the video and audio signals including the current signal image format and audio format. This information provides helpful diagnostic information.
RF6 Extension Center accommodates up to 6 single-slots or 3 double-slots. It is space saving design with rack mountable enclosure.
Compatible with:
• DT1000
• OLC Tx
• DT1000RV
• DTS1000RV
Features and Benefits
• DVI output
• Analog 3.5mm stereo audio
• 4 LC fiber input
• Plug-N-Play
• HDCP compliant
• 1080p ready
• Auto EDID
• DDWG DVI/HDMI standard