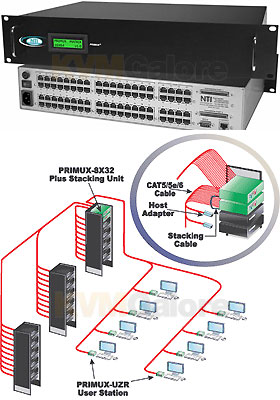 Buy this item and earn 5,856

Club

Points.
8-User, 32-Port, VGA Multi-Platform Matrix KVM Switch via CATx Provides Consolidated Control for Multi-User, Multi-Rack Server Environment up to 1,000 feet Away.
PRIMUX® KVM Matrix Switch via CATx provides non-blocking access for up to 8 simultaneous users to up to 32 servers. The switch frees up valuable space by eliminating large KVM switchboxes and bulky hard-to-manage coax cables.
The PRIMUX® Matrix system consists of three components:
• Matrix Switch, connects users to servers;
• Host Adapters, connect to each server;
• User Stations, connect to each set of user-station equipment – keyboard, monitor and mouse.
The User Stations and Host Adapters can be located as far as 1,000 feet from each other, and are connected to the matrix switch via CAT-5/5e/6 UTP cable.
On Screen Display
• Use keyboard or mouse to operate the switch from menus superimposed onto the monitor.
• Displays the platform, name, and power status of the connected servers.
• Allows color skew and video compensation fine tuning for optimal video quality.
• Locate and select servers by name.
• Names can be up to 16 characters long.
• Help Screens assist users with OSD.
• Modify the size and position of the OSD.
• OS- and software-independent.
• Various administrator configuration features, including users, servers and user stations.
Security
• Administrator can enable or disable all security features and select which servers each user can access.
• Add or remove authorized users.
• Set individual user names and passwords for each user.
Modes of Operation
• Normal– a user connected to a host.
• Scan– user is subsequently connected to hosts from a list.
• Sharing– the administrator can select for each host a sharing attribute, which defines multiple user access to the host.
• None (not shared)– one user is connected to the host and controls it. No other user may select nor control that host.
• Limited (video shared)– one user is connected to and controls the host. Other users may select and see the video output from the host, but not control the host.
• Full (shared)– a host may be selected by many users; the host is still controlled by one user, but its control may be given to any other user after an inactivity timeout (share idle time).
RS232
• Configuration can be done through the serial port.
• Baud rate: 115200.
Ethernet Control
• Configuration can be done over the Internet via Telnet.
• 10/100 BaseT Ethernet interface.
Cables
• Use CAT-5/5e/6 UTP cable to connect Host Adapters and User Stations to the switch.
• Cables not included.
Features and Benefits
• Multi-user, multi-platform, multi-rack access.
• Platform-specific host adapters for host connection – PS/2, USB, Sun, Serial.
• Simple plug-and-play auto-configured installation.
• Servers are discovered as they are powered up, and can be accessed immediately by authorized users
• Hot-swap components with no disruption of server operation.
• Supports video resolutions to 1920 x 1440.
• Automatically adjusts the video quality to compensate for varying lengths of CAT-5/5e/6 cable.
• Dedicated microprocessors prevent CPUs from locking up.
• Real time power status of connected servers.
• Command and control provided by OSD of connected User Station.
• Flash upgradeable.
• Two years warranty