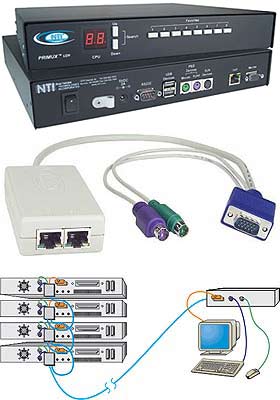 Control up to 64 Multi-Platform Servers in Zero Rack Space, over CAT-5 Cabling.
PRIMUX® zero-U KVM switching system enables selection and control of up to 64 multi-platform servers without consuming rack space. The switch frees up valuable space by eliminating large KVM switchboxes and bulky hard-to-manage coax cables.
USB, PS/2 or Sun servers as well as RS232 serial devices can be controlled from up to 1,000 feet away through keyboard commands via built-in On Screen Display (OSD), or through the front panel interface of the User Station.
Multi-platform Host Adapters connect to the User Station in a one-chain-link, using industry standard CAT-5, CAT-5e, or CAT-6 cables.
For true multi-platform operation, PRIMUX supports either USB, PS/2 or Sun keyboards and mice, as well as a multi-sync VGA monitor as a user console.