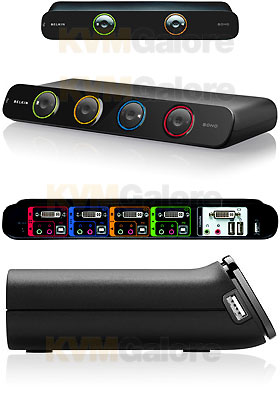 OmniView SOHO DVI & USB
Share one DVI monitor, USB keyboard, mouse, speakers and USB 2.0 peripherals between 2 or 4 DVI computers with cables included
Read more below...

Share One DVI Monitor, USB Keyboard, Mouse, Speakers and USB 2.0 Peripherals Between 2 or 4 DVI Computers with Cables Included.
Belkin OmniView® SOHO Desktop KVM Switches let you share one monitor, keyboard, and mouse between two (2) or four (4) computers, saving space on your desk and reducing equipment clutter. You can also connect one set of speakers and use them for all your computers.
The sleek design incorporates a built-in USB 2.0 2-port hub with one of the ports conveniently located on the front. This is perfect for connecting an MP3 player, printer, scanner, or any other of your USB devices to the KVM Switch while allowing computers, also connected, to access them.
Sensitive push buttons on the front allow for easy switching, and independent audio-switching means you can play music from one computer while accessing files from another.
SOHO KVM Switches help to increase your efficiency and productivity at home or in the office by reducing desktop clutter while keeping access to all of your programs and files spread across multiple computers.
Belkin SOHO KVM Cables now come included in the box with your KVM Switch!