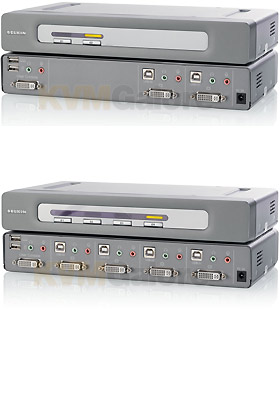 OmniView Secure DVI KVM
2- and 4-port secure, NIAP-validated USB/Audio/DVI-D Dual-Link KVM switches prevent data transfer between secure and unsecured computers
Read more below...

$424.00
Compare to MSRP $499.99 -
You save $75.99
$539.00
Compare to MSRP $599.99 -
You save $60.99
Protect secure computers with NIAP-validated, DVI-D, dual-link KVM switches
Designed specifically for secure military and government installations, OmniView® Secure KVM Switches let you control multiple DVI-D computers from a single DVI-D console.
These products ensure the integrity of your data by safely switching among secure and unsecured computers. The Switches feature a dedicated processor per computer port to keep each computer separate and secure at all times, and prevent data transfer among them.
OmniView® Secure DVI KVM Switches are listed by NIAP, and are validated by NIAP Common Criteria to EAL 4+ with ALC_FLR.3. The first and only KVM switches to achieve ALC_FLR.3, the Secure DVI KVM Switches are also the first to conform to the latest Protection Profile v1.2 for peripheral sharing devices.