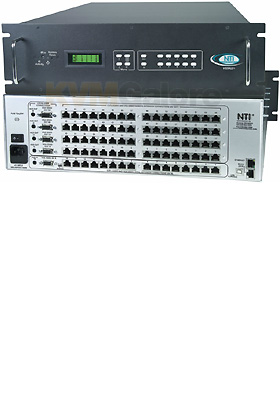 Audio/video matrix switches via CAT-5 to 1,000 feet
up to 32-inputs; up to 64-outputs
---
VEEMUX® Audio/Video Matrix switches route audio and video inputs from many video sources to multiple displays (projectors, monitors, etc.) and speakers via inexpensive CAT-5/5e/6 cable.
VEEMUX Matrix CAT-5 1000 are capable of connecting to as many as 32 video sources via transmitters and 64 video displays via receivers with a maximum extension of 1,000 feet between the transmitters and receivers. In addition to the remote inputs/outputs, the switches feature one direct-connect VGA and stereo audio input/output for every 16 remote RJ45 connectors.
The audio/video signal from a single input can be routed to one or more destinations. Each image will be as crisp and clear as if directly connected to the original source. Buffered video outputs and digital transmission of audio signals ensures integrity is maintained throughout the system.