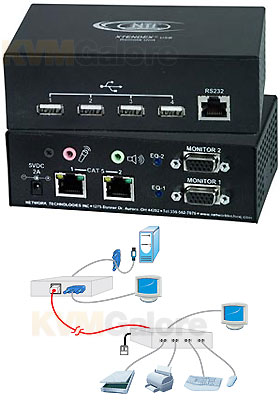 Buy this item and earn 703

Club

Points.
ST-C5USB2V2ARST: Extend four USB devices, two VGA monitors
RS232 (for touchscreens and whiteboards) and two-way audio (support for speakers and microphone) up to 200 feet
---
XTENDEX® Transparent VGA USB Extender extends four USB devices and a VGA monitor up to 200 feet.
Each USB extender consists of a local unit that connects to a computer and also supplies video to a local monitor, and a remote unit that connects to four USB devices and a monitor.
Features and Benefits
• Supports fully transparent USB connections - supports all USB computers (PC, Sun and Mac) and their associated peripherals.
• Extend devices such as keyboards, mice, printers, game controllers, USB flash drives, touch screen monitors, whiteboards, etc.
• Using CAT-5e/6 cable, extend USB 1.1/1.0 devices to 180 feet and USB 2.0 devices to 150 feet.
• Using CAT-6a/7 cable, extend USB 1.1/1.0 devices to 200 feet and USB 2.0 devices to 180 feet.
• Supports local and remote VGA monitors.
• Supports resolutions to 2048x1536.
• DDC2B support for local or remote monitor.
• Compliant with USB 2.0 (low/full speed) standards.
• Supports Plug-n-Play specification.
• Meets the electrostatic discharge (ESD) immunity requirements of IEC/EN 61000-4-2.
• Transmits signals over two CATx cables.
• Mounting brackets included for easy surface/wall mounting.
• Warranty: Two years