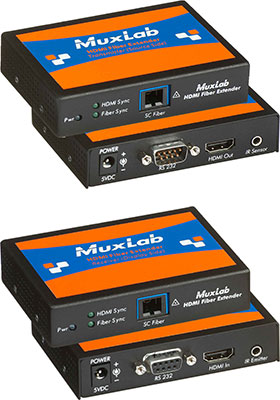 Buy this item and earn 1,159

Club

Points.
500460: Connect an HDMI source to a remote display (point-to-point)
up to 1000 feet apart over one SC Multimode fiber strand
---
The HDMI 4K Fiber Extender Kit (500460) allows HDMI equipment to be connected up to 1000 feet (305m) via one (1) multimode fiber strand in a point-to-point configuration.
The kit comes with one (1) Transmitter and one (1) Receiver as well as an IR Emitter and IR Sensor for remote control applications and two (2) power supplies.
Typical Applications
• Digital signage
• Commercial AV systems
• Classroom projector systems
• Boardroom systems
• Collaborative PC systems
• Medical information systems

Features and Benefits
• Up to 1,000 feet (305m) via a single multimode fiber
• IR control (IR Sensor and IR Emitter included)
• SC connector for multimode fiber 62.5 um/125 um or 50um/125 um
• Supports RS232