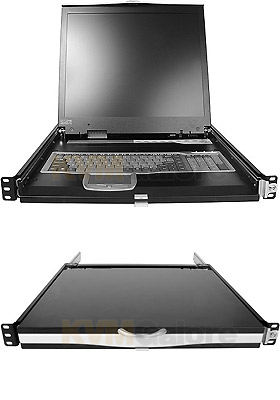 Modular Rack-Mount Consoles/KVM Switches
1U 17- and 19-inch folding rackmount LCD/keyboard/touchpad consoles with an interchangeable rear-mount KVM switch module
Read more below...

$1,289.00
Compare to MSRP $1,325.99 -
You save $36.99

$1,349.00
Compare to MSRP $1,388.99 -
You save $39.99
1U 17- and 19-inch Folding Rackmount LCD/Keyboard/Touchpad Consoles with an Interchangeable Rear-Mount KVM Switch Module.
These 1U Rackmount LCD KVM Consoles provide a complete keyboard, video and mouse control point, integrated neatly into only 1U of rack/cabinet storage space - a space efficient-solution that provides total KVM control right from a server rack.
The KVM Consoles combine a 17in or 19in TFT-LCD monitor, full 105-key keyboard and touchpad together into a durable, compactable design. When the console is not in use, it's as simple as folding the display and keyboard/mouse up (like a laptop computer) and sliding it back into the server rack on the sturdy mounting rails (included).
A highly scalable solution, the LCD consoles feature a modular design that lets you install a multi-port KVM switch directly into the back of the console, allowing you to control multiple servers from a single point while only taking up 1U of rack space.
To simplify maintenance and ensure long-lasting performance, the consoles keyboard and touch pad are both replaceable - allowing you to swap out components as needed, without replacing the entire console.