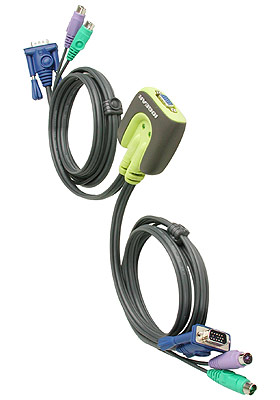 Buy this item and earn 20

Club

Points.
GCS62: 2-port KVM switch with 6-foot cables built-in
MiniView™ Micro KVM switch from IOGEAR - a simple solution for those with more PCs than hands. Use one keyboard, one monitor and one mouse to control two PCs.
This self-powered KVM switch features mouse & keyboard emulation to ensure smooth operation, as well as support for Plug-n-Play monitors and most wheel mice.
IOGEAR's patented VSE Video Signal Enhancement® technology provides rich, 32-bit color at resolutions up to 1920 x 1440. With KVM cables (6' long) molded into the unit, all you need to do is to plug it into your computers, and you've got a complete KVM solution from IOGEAR.
Features
• The smallest 2-port PS/2 KVM switch available
• Use one keyboard, monitor and mouse to control two computers
• 6' long molded-in cables to simplify setup
• Microsoft Intellimouse, Logitech FirstMouse+, MouseMan+, and most PS/2 mice are supported
• Port selection through convenient Hot Keys
• PS/2 mouse emulation for error-free boot-up
• Save space and reduce desktop clutter
• Plug-n-Play monitor support
• Support video resolutions up to 1920 x 1440
• No software required
• Built in AutoScan mode
• LEDs allow for easy status monitoring
• 3 Year Limited Warranty
Requirements
Computers with PS/2 mouse connections, PS/2 keyboard connections, and HDDB15 VGA connection.
Package Content
1x Miniview Micro 2-port KVM
1x User manual
1x Quick start guide
1x Warranty registration card