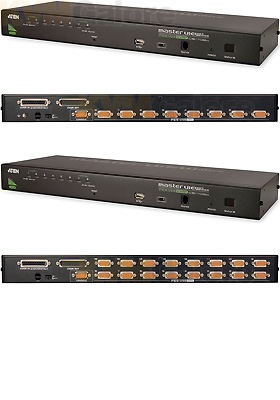 8- and 16-Port USB-PS/2 KVMP Switches with USB Peripheral Sharing, Two Level Security, Multi-Platform Support (Windows, Linux, Mac and Sun) and Video Resolution up to 2048x1536.
Master View Max KVMP switches allow access to up to 16 directly connected computers, and through daisy chain architecture as many as 512 total servers may be controlled from a single keyboard, mouse and monitor.
To simplify installation and to keep track of so many servers a custom ASIC (patent pending) provides an auto-sensing function that recognizes the position of each KVM station in the chain.
A front panel USB port provides server access to USB devices such as hard drives, or CDROMs, eliminating the need to physically connect a storage device to a server to install patches or updates.
Master View Max KVMP switches will accommodate either PS/2 or USB keyboards and mice, and will connect to a mixture of PS/2 and USB servers.