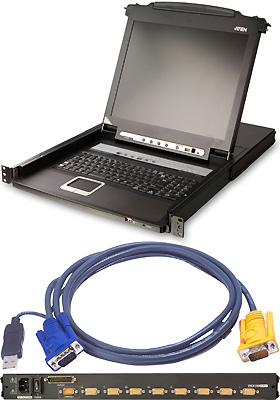 Buy this item and earn 1,377

Club

Points.
17-inch LCD KVM console with a built-in 8-port USB/PS2 KVM switch
with peripheral sharing and 8 USB KVM cables
---
This SKU combines following items:
1x CL5708M 8-Port LCD KVMP
2x 2L5201U 4-foot USB KVM Cables
4x 2L5202U 6-foot USB KVM Cables
2x 2L5203U 10-foot USB KVM Cables
CL5708 Slideaway™ LCD KVMP Switch is a control unit that allows access to multiple computers from a single PS/2 or USB KVM (keyboard, video, and mouse) console. A single CL5708 can control up to 8 computers. As many as 31 additional KVM switches can be daisy-chained to the CL5708, so that up to 256 computers can all be controlled from a single KVM console.
CL5708 incorporates a single USB hub for sharing USB devices on a one at a time basis among first tier servers. This allows updates and software installations to be performed from the common console, without needing to connect an external drive to each server or interfere with your network traffic.
CL5708 offers a space-saving, streamlined approach to KVM switch technology by integrating a keyboard, 17-inch LCD monitor, and touchpad in a 1U rack-mountable sliding housing.
Features and Benefits
• Space saving technology — up to two consoles (one bus) control up to 8 computers
• Extra console port — manage computers in the LCD KVM switch from an external console
• Dual interface — supports PS/2 and USB keyboards and mice in the KVM Ports
• Supports external USB mouse
• USB peripheral support for attached computers
• Convenient station and port selectors, each with two 7-segment LED displays
• Dedicated Hotkey Mode and OSD Invocation Keys
• Convenient computer selection via mouse-driven OSD
• Console lock — locks the console draw to remain securely locked away when not in use
• Daisy chain up to 31 additional KVM switches to control up to 256 computers
• No software required
• Hot pluggable — add or remove computers without powering down the switch
• OSD port list automatically expands when new stations are added
• Auto Scan Mode enables continuous monitoring of user-selected computers
• Security — Administrator/User password authorization for enhanced security protection
• Two level password security — only authorized users can view and control computers
• OSD screen automatically adjusts to resolution changes
• Supports Windows, Sun, Linux, Mac, Unix, Netware, AIX (RS6000), and DOS 6.2 and later
• Standard 105-key keyboard
• Video resolutions up to 1280 x 1024 @ 75Hz.
• Upgradeable firmware — simultaneously upgrade the firmware for all KVM switches on the chain via the chaining bus
Package Content
1x CL5708 KVMP Switch with Standard Rack Mounting Kit
2x 2L5201U
4x 2L5202U
2x 2L5203U
1x 5-in-1 console cable
1x Firmware Upgrade Cable
1x Power Cord
1x Grounding Wire
1x User Manual
1x Quick Start Guide