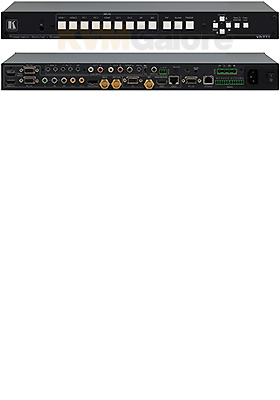 Buy this item and earn 2,876

Club

Points.
9-input (HDMI, VGA, composite, component DisplayPort, SDI), 4-output (local/remote HDMI, VGA, SDI) ProScale™ presentation audio/video switcher/scaler

Quick Facts
• K-Storm™ Scaling Technology
• Fade-Thru-Black Clean Ultra Fast Switching
• K-IIT XL™ Picture-in-Picture
• Luma Keying via PiP Window
• Nine Video Inputs, Four Video Outputs
• Multi-standard SDI Operation
• Multiple Output Resolutions - Up to 2K and 1080p
• 3D Comb Filtering & Powerful Noise Reduction Filters
• HDMI HDCP & Deep Color Support
• Advanced EDID Management
• Selectable Power Save Modes
• Audio Outputs - Unbalanced, S/PDIF & 2x10W Power Amplifier
• Embeds/de-embeds HDMI Audio with Audio Delay
• Control - RS-232, IR & Ethernet
• Size - 19" (1U)
• Audio - U/B/D/E
VP-771 ProScale™ Presentation Switcher/Scaler is a high-quality presentation switcher and scaler for a variety of signals. It accepts one of nine inputs: component video, DisplayPort (DP), 3G HD-SDI, two computer graphics, two composite video and two HDMI signals.
VP-771 scales the video, embeds the audio, and outputs the signal to one HDMI, one computer graphics, one 3G HD-SDI and one DGKat TP extended display over CAT-5, together with digital audio, unbalanced stereo and a 2x10-watt amplified balanced stereo speaker output.
Features and Benefits
• K-IIT XL™ Picture-in-Picture Image Insertion Technology - Ultra-stable picture-in-picture, picture-and-picture, and split screen capability. Any video source can be inserted into or positioned next to a computer graphics video source or vice versa with window positioning and sizing controls.
• K-Storm™ Scaling Technology - Kramer's extremely high performance scaling technology for converting the incoming video signal to a scaled output resolution with a minimum of motion artifacts. Up- and down-scaling of computer graphics video signals is possible.
• Ultra-Fast Fade-Thru-Black (FTB™) Switching - Video switching transitions are clean and ultra fast. The video fades to black and the new input fades from black for smooth, glitch-free switching. The output signal provides constant sync so the display never glitches.
• Advanced Deinter lacing Functions - Method, sync, selectable film modes, diagonal correction and motion detection sensitivity, 3:2 and 2:2 pull-down; 24sf handling.
• HDTV Compatible.
• HDCP Compliant - The HDCP (High Definition Content Protection) license agreement allows copy-protected data on the HDMI input to pass only to the HDMI output.
• Multi-Standard Operation - SDI (SMPTE 259M and SMPTE 344M), HD-SDI (SMPTE 292M) and 3G HD-SDI (SMPTE 424M).
• Advanced Input and Output EDID Management.
• Video Inputs - Component (Y, Pb, Pr) video on RCA connectors, DisplayPort (DP), SD/HD/3G HD-SDI (including SDI loop) on BNC connectors, 2 computer graphics on 15-pin HD connectors, 2 composite video on RCA connectors and 2 HDMI.
• Scaled Outputs - HDMI, computer graphics on a 15-pin HD connector, SD/HD/3G HD-SDI on a BNC connector and DGKat twisted pair on an RJ-45 connector.
• SDI Channeling - Select one active signal and three bypassed signals from eight embedded stereo audio channels.
• Multiple Output Resolutions - Up to 2K and 1080p.
• HDMI Deep Color Support.
• Luma Keying - Via PIP window.
• Vertical Keystoning.
• Built-in ProcAmp - Color, sharpness, contrast, brightness and gamma are set individually for each input.
• 3D Comb Filtering - Provides the best quality color separation for composite video inputs.
• Built-in Time Base Corrector - Stabilizes unstable video sources.
• Powerful Noise Reduction Filters - Temporal, block, mosquito and combing.
• Picture Zooming - Both on main and PIP window from 100% to 1600%, including separate V and H sharpness control.
• Multiple Aspect Ratio Selections - Follow input, follow output, best fit, letterbox and overscan.
• Dual Window Display - Preset picture-in-picture, picture-and-picture and split screens, as well as customized window layouts.
• Audio Inputs - 2 HDMI, 2 computer graphics and 1 DisplayPort and 1 microphone in on 3.5mm mini jacks; 2 CV and 1 S/PDIF on RCA connectors.
• Audio Outputs - 1 S/PDIF on an RCA connector, 1 unbalanced stereo audio on a 3-pin terminal block connector and 2x10W power amplifier for balanced speakers on terminal block connectors.
• HDMI Audio - Embeds/de-embeds HDMI audio with delay of 0-90msec for lip-sync correction.
• Microphone Input - Supports mix and talk-over features, as well as 0-90msec delay to prevent feedback.
• Non-Volatile Memory - Saves final settings.
• Firmware Upgrades - Via Ethernet and RS-232.
• Flexible Control Options - Front panel buttons, contact closure, OSD (on-screen display) via front panel buttons or IR remote (remote control included), Control Application software for use via Ethernet and RS-232.
• Selectable Power Save Modes.
• Worldwide Power Supply - 100-240V AC.
• Standard 19" Rack Mount Size - 1U. Rack "ears" included.