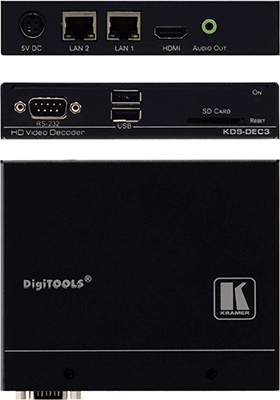 Buy this item and earn 1,196

Club

Points.
H.264 HD audio/video decoder
Note: Encoder units are purchased separately
---
Looking for a better price? Write to us or call us at 1-800-636-3434 and ask for our special offer.
---
Highlights
• AVC Support - MPEG-4 using H.264 and AAC codecs
• Local Downscale Streaming
• Scaling and Cropping Features
• Open Encoding - Enable software decoding through VLC® player software
• Decoder - Integrated Network Switch - Allows for KDS-DEC3 daisy chaining and network extension
• Streaming Support - Unicast and multicast through RTSP (Real Time Streaming Protocol)
• KDS-EN3 Manager Software
• Audio - U
Kramer KDS-DEC3 is an H.264 decoder for encoded signals up to 1080p60. It is designed to work with the KDS-EN3 H.264 encoder to provide a high-quality and fully-featured end-to-end video and audio over IP solution.
Kramer DigiTOOL® KDS-EN3 encoder and KDS-DEC3 decoder units work in conjunction to provide unicast (one-to-one) or multicast (one-to-many) streaming over an IP network.
Using Kramer KDS-EN3 Manager software, you can manage your entire KDS-EN3 network from a single system.
Features and Benefits
• MPEG-4 AVC support using H.264 and AAC codecs
• Downscale streams locally before distribution over the network to lower bandwidth consumption
• Scaling and cropping features that enable flexible display of source content on the decoder output
• Open encoding to enable software decoding through VLC® player software
• Standard 10/100/1000Mb Ethernet network operation
• A decoder-integrated network switch that allows for KDS-DEC3 daisy chaining and network extension
• Kramer KDS-EN3 Manager software that allows for multiple instances and remote management of the KDS-EN3 network including auto-detection and discovery of KDS-EN3/KDS-DEC3 units on a subnet
• HDMI®/DVI video support
• HDMI or analog audio support
• Unicast and multicast streaming support through RTSP (Real Time Streaming Protocol)
• Manual and scheduled recording to network storage option on encoders
• Fail safe video playback or image display when a decoder loses its connection to an encoder
• KDS-EN3 Manager auto-detection and discovery of KDS-EN3/KDS-DEC3 units on a subnet (DHCP server required)
• RS-232 virtualization from encoder to decoder
How It Works
Kramer KDS-EN3 encoder and KDS-DEC3 decoder units work in conjunction to provide unicast (one-to-one) or multicast (one-to-many) streaming over an IP network. Using Kramer KDS-EN3 Manager software, you can manage your entire KDS-EN3 network from a single system. A Kramer KDS-EN3 environment is made up of four elements connected to a network:
• Source - A video source connected to an encoder, for example, a media player, computer system, or camera
• KDS-EN3 encoder - An encoder is needed for each source in your KDS-EN3 environment. An encoder can transmit to a single decoder or to multiple decoders
• KDS-DEC3 decoder - A decoder is needed for each output in your environment. A computer system using VideoLAN® VLC media player as a video player can also be used to decode the signal from an encoder
• Controller system - A system connected to the network and running Kramer KDS-EN3 Manager. A controller system can also be a source
Applications
• AV distribution systems with one or more sources and many displays in schools, universities and public venues
• Long-distance transmission of signals using existing wires and infrastructure in corporate offices, government applications
• Advanced applications where functions such as recording, archiving, scaling and more are required
In the Box
1x KDS-DEC3 H.264 decoder
1x Power adapter (5V DC)
4x Rubber feet
1x Quick-start sheet