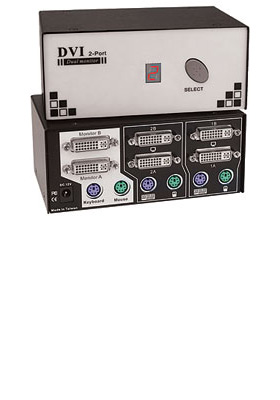 Buy this item and earn 170

Club

Points.
KEEMUX-P2D-2: Access two single-link DVI dual-video PCs from one keyboard, mouse and two DVI monitors
KEEMUX® DVI KVM switch allows controlling 2 single-link DVI-enabled PCs – each with single or dual video-head(s) – from one PS/2 keyboard, PS/2 mouse and one or two DVI monitor(s).
KEEMUX® DVI dual-monitor KVM switch enables several computers equipped with multiple video-heads to be controlled from a keyboard, mouse and an array of 2 monitors side by side.
All the monitors and the keyboard and mouse are switched together from one computer to the next providing full control of the wider picture, making use of extended video "real estate" offered by multiple monitors.
Features and Benefits
• Compatible with all dual monitor DVI-enabled PS/2-style desktop and notebook PCs.
• Supports DVI interface for crisp and clear video quality on Flat Panel Display.
• 1600 x 1200 video resolution.
• Dual-monitor capability.
• All attached PCs can be booted simultaneously.
• Front-panel push button and keyboard hotkey commands for channel switching.
• LED display on switch shows which port is active.
• Auto-Scan mode feature causes the switch to automatically and sequentially display the video from each powered-on computer. Scan Mode available from the keyboard.
• Rugged metal enclosure.