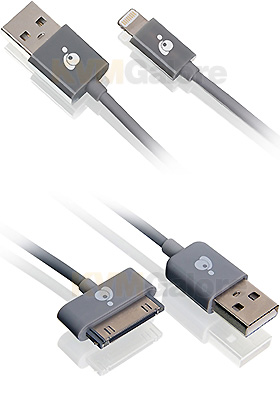 USB to Lightning and USB to 30-Pin Charge and Sync Cables for iPod® / iPhone® / iPad®.
Designed as a replacement for factory Apple® Lightning and Dock cables or as an additional cable to keep in the office, car, backpack or briefcase, IOGEAR's super flexible Charge n' Sync cables meet or exceed OEM cable standards for performance without being stiff or difficult to coil. High-grade materials enable thinner construction, and make for a non-bulky, tangle-free cable.
IOGEAR Charge n' Sync cables are compatible with all Apple USB chargers, computer USB ports, and aftermarket USB chargers with built-in compatibility for iPod®/iPhone®/iPad®.
All of IOGEAR's Apple-compatible Charge and Sync cables are Apple MFi certified to work with every device compatible with the original Apple supplied cable. Non-certified cables can have out of spec connectors and imitation processors which can damage your device, so always makes sure you a purchasing an actual Apple Authorized cable like the those available from IOGEAR!